PROFESSOR GRAEME MEINTJES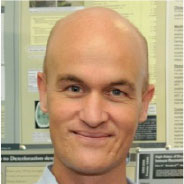 Professor Graeme Meintjes is a Professor of Medicine, an Infectious Diseases Physician, Wellcome Fellow and Clinical Scientist based at the University of Cape Town (UCT) in the Institute of Infectious Disease and Molecular Medicine. He obtained his medical degree and PhD from UCT, and a Master's degree in Public Health from Johns Hopkins University. He is a Fellow of the the College of Physicians of South Africa and the Royal College of Physicians of Glasgow.
His research focuses on improving understanding of pathogenesis, diagnosis and treatment of the clinical complications that affect patients with advanced HIV disease, including HIV-associated tuberculosis, immune reconstitution inflammatory syndrome (IRIS) and cryptococcal meningitis as well as drug-resistant TB. He has been Lead/Principal Investigator on several clinical trials addressing treatment strategies for these conditions. His work also focuses on improving understanding of the immunopathogenesis of HIV-associated TB, specifically the immunological reactions underlying TB-IRIS and the immune phenotype associated with mortality in patients with HIV and disseminated TB.
Read more on Professor Graeme Meintjes here and find a list of his publications here.