DR DAVID MEYA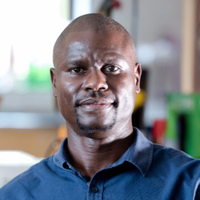 Dr Meya is a Senior Lecturer in the School of Medicine at the College of Health Sciences, Makerere University, and holds an appointment as adjunct Associate Professor at the University of Minnesota. He has been involved in clinical research of central nervous system infections and complications, with a focus on HIV Immune Reconstitution Inflammatory Syndrome (IRIS), an often meningitis and tuberculosis. Dr Meya has led epidemiological and translational research studies as well as randomized clinical trials in Uganda in collaboration with colleagues from the University of Minnesota.
Dr Meya also has a specific interest in public health interventions to prevent meningitis at population level. He has advocated for cryptococcal antigen (CrAg) screening as a strategy to reduce deaths and hospitalizations from cryptococcal meningitis. He is currently leading efforts to initiate implementation of the national CrAg screening program in collaboration with the Ministry of Health,  Clinton Health Initiative (CHAI), the Central Public Health Laboratories and U.S CDC.
Dr Meya has been the Principal Investigator on NIH R01, CDC U01, and UK MRC grants. Currently, he is a co-Principal Investigator on a collaborative clinical trial focusing on improving the clinical outcomes of HIV-infected persons with cryptococcal meningitis, the second most common AIDS-defining opportunistic infection in Sub-Saharan Africa using adjunctive sertraline (Zoloft). For the AMBITION Trial, Dr Meya is the Lead Investigator at the Infectious Diseases Institute in Uganda.
Read more on Dr David Meya here and find a list of his publications here.