PROFESSOR CHIRATIDZO NDHLOVU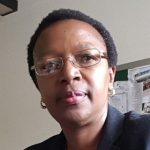 Professor Chriatidzo Ndhlovu is the current Deputy Dean of the University of Zimbabwe College of Health Science as well as being an Associate Professor in the Department of Medicine. As a medical educator and clinician involved in Nephrology and HIV Medicine, she has vast experience in internal medicine, renal care as well as having vast experience in looking after HIV patients in a resource-limited setting.
She is a Principal Investigator in various HIV related research activities, in particular studying outcomes in cryptococcal meningitis and HIV, and adherence to antiretroviral therapy in adolescents. She is the current Chairperson of the National Medicines and Therapeutics Policy Advisory Committee (NMTPAC) which advises the Secretary of Health & Child Welfare on all issues pertaining to pharmaceutical use including coordinating the review of the Zimbabwe Essential Medicines List as well as monitoring rational use of medicines in the country. She is Principal Investigator for the AMBITION Study in Harare, Zimbabwe.
Find a list of Professor Ndhlovu's publications here.