PROFESSOR WILLIAM HOPE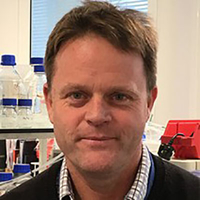 Professor William Hope is a Professor of Therapeutics and Infectious Diseases at the University of Liverpool in the UK. He is a Fellow of the Royal Australasian College of Physicians and a Fellow of the Royal College of Pathologists of Australasia. Professor Hope qualified in Medicine in 1991, before undertaking specialists training in Infectious Diseases and Clinical Microbiology. He completed his PhD in antimicrobial pharmacology in 2006, while undertaking fellowships at the University of Manchester, UK, and the National Institutes of Health, Bethesda, USA. He was an NIHR Clinician Scientist, and this award focused on individualised antimicrobial therapy. Professor Hope leads the newly formed Centre for Antimicrobial Pharmocodynamics, which provides the pharmacodynamic packages for ne antibiotics.
Professor Hope's areas of special interest and research are antimicrobial pharmacokinetics and pharmacodynamics, mathematical modelling of antimicrobial agents, population pharmacokinetics, and individualisation of antimicrobial therapy. Professor Hope is Scientific Advisor to the ESCMID Fungal Infection Study Group (EFSIG), a member of the ICAAC Program Committee for Antimicrobial Pharmacokinetics, Pharmacodynamics and General Pharmacology, and Medical Guideline Director for the European Society of Clinical Microbiology and Infectious Diseases (ESCMID).
Find a list of Professor William Hope's publications here.