WHO ARE WE 
The African Meningitis Trials Network (AMNET) was established in October 2017. The network brings together African and European Clinical Researchers whose main aim is to reduce the large number of deaths caused by meningitis in Africa through collaborative clinical rials. It is currently supported by the AMBITION Study (high dose Ambisome on a fluconazole backbone for cryptococcal meningitis induction therapy in Sub-Saharan Africa : a randomized controlled non-inferiority trial).
The objective of the Network is to build on existing experience, resources and infrastructure in order to enable other institutions and researchers to build on the AMBITION experience. The hope is that this will streamline the development of large, international randomized controlled trials in the future.
The Network includes the following partner institutions:
Funding Opportunity : Wellcome Trust International Training Fellowships 2018

Apply for the Wellcome Trust International Training Fellowships – November 2018 round (formerly called Training Fellowships in Public Health and Tropical Medicine). This scheme offers nationals of low- and middle-income countries the opportunity to receive training at postgraduate or postdoctoral level. Application Deadline : November 22, 2018
News: Gilead Sciences Announces Steep Discounts For Ambisome To Treat Crytococcal meningitis in Low-and Middle-Income Countries
Gilead Sciences, Inc. has announced that it will expand its access initiatives for AmBisome® (amphotericin b liposome for injection 50 mg/vial) to address the urgent need for treatment of cryptococcal meningitis in 116 low- and middle-income countries.  Read the Full Article here on the Gilead Website.

UPCOMING MEETING

9th EDCTP Forum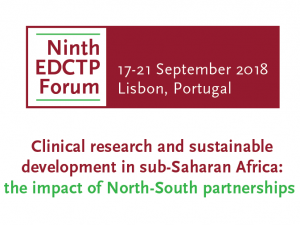 The 2018 Forum builds on the growing awareness for global cooperation for preparedness against disease outbreaks, public health emergencies, and strengthening health systems. The meeting in Lisbon, Portugal presents a platform to take stock of the impact of Europe-Africa partnerships in enabling the clinical research environment in developing countries to meet the sustainable development goals. Read More : Ninth EDCTP Forum
NEWS
July 18, 2018
The John Dirks Canada Gairdner Global Health Award recognizes the world's top scientists who have made outstanding achievements in Global Health Research....
Read More


This project has received funding from the European Union's Horizon 2020 research and innovation programme under Grant Agreement Number TRIA2015-1092.
This project is part of the EDCTP2 programme supported by the European Union.