In our latest blog post, DEPTH researcher Dr Alicia Renedo gives us an overview of her experience delivering a short course on participatory research at Kyoto University School of Public Health.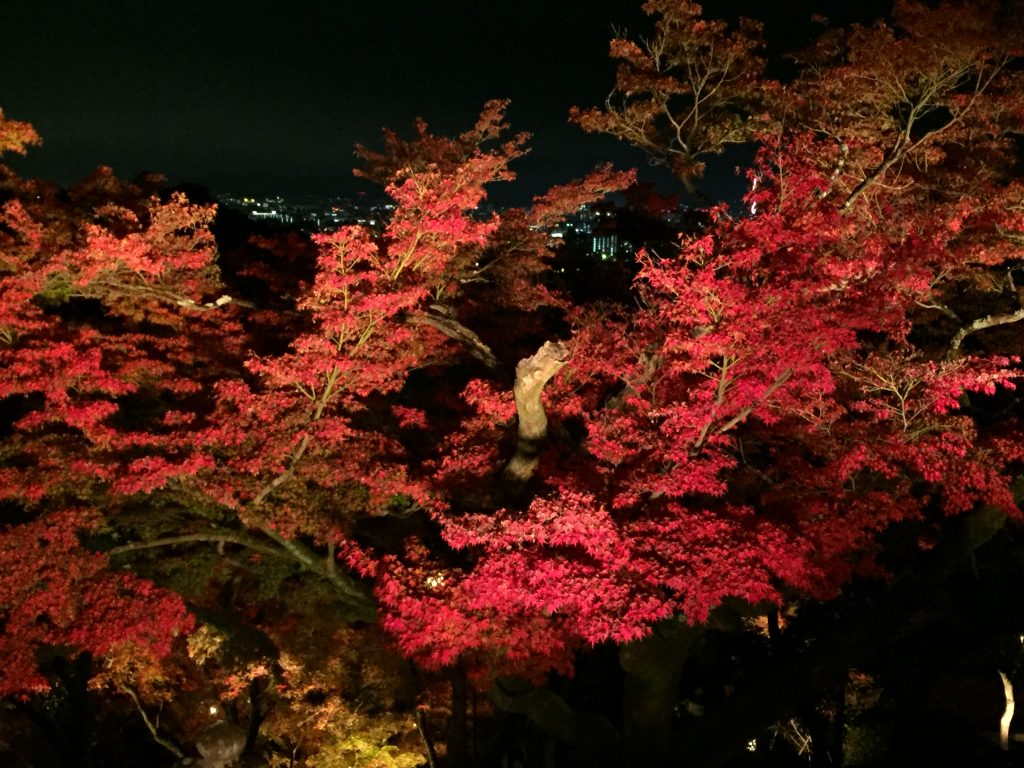 The short course consisted of two full day workshops (day 1 Professor Pranee Liamputtong and day 2 Dr Alicia Renedo), which included a combination of mini-lectures, reflective discussions and participatory group work by students from Kyoto University. Research degree students from LSHTM also attended the course at Kyoto and presented some of their own participatory research projects
Professor Liamputtong from Western Sydney University delivered an engaging session on the theory and methods of PAR (participatory action research). PAR emphasises involvement of participants in the research undertaken and encourages participants to shape the research undertaken. The day started with an inspiring introduction into the philosophy behind PAR, which drew upon the pioneering ideas of Brazilian educator Paulo Freire. Students learned about the importance that Freire's work has had on the theory and practice of participation for social change and health improvement. In particular, Professor Liamputtong challenged students to think about how Freire's concepts of 'radical love' and 'conscientization' can contribute to more equitable research. This is a type of research that challenges the status quo by engaging ignored and silenced voices and addresses the problems marginalised communities identify as central to their everyday life.
Professor Liamputtong contextualised PAR within the wider debate about decolonising research methodologies. She drew on Linda Tuhiwai Smiths' work to make an excellent case for the need to stop conducting research that takes away the knowledge and livelihoods of communities and suppresses their identities.
This introduction to the theory and philosophy of PAR was followed up by an overview of different creative PAR methodologies, from body-mapping to photovoice. We also learned about the personal skills PAR researchers need to develop; reciprocity, self-reflexivity, respect, self-awareness, humility, and compassion amongst others.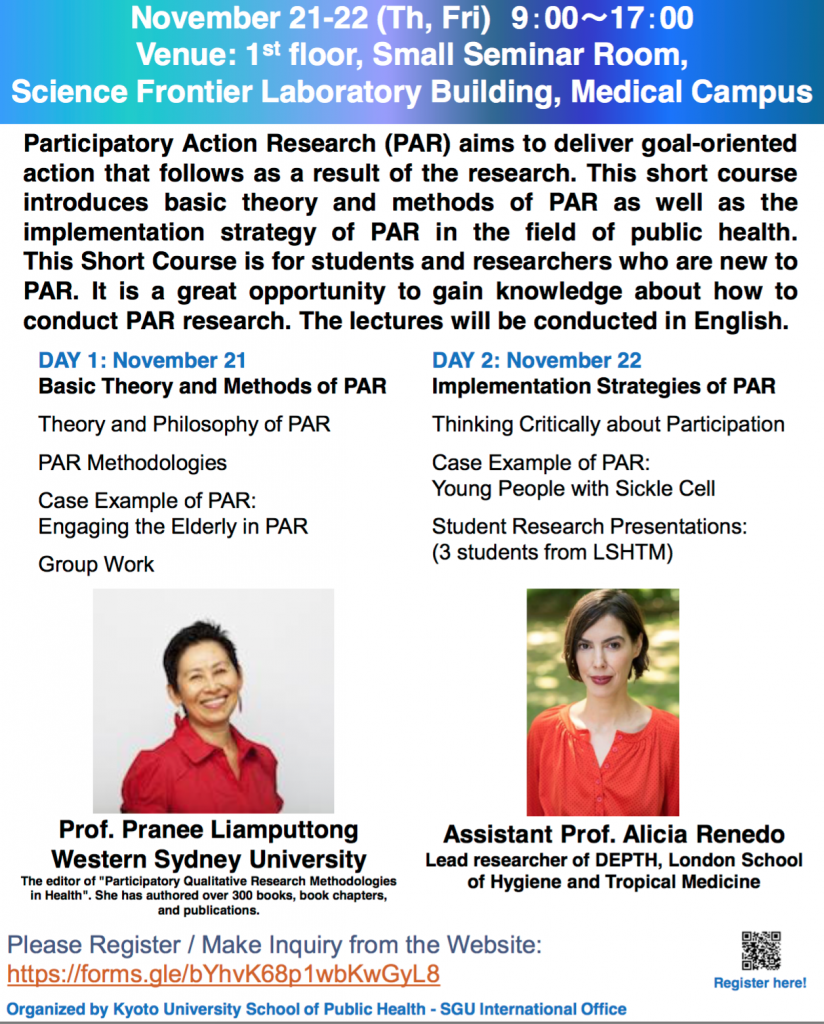 On the second day, Dr Renedo encouraged students to think critically about participation in health. She gave on overview of the body of work she's developed with Professor Cicely Marston focused on understanding how community participation and patient involvement in healthcare research works in practice: what works, why and how? She started the day with an introduction to work they have developed on theorising participation and using participatory approaches in health research. Their work has addressed important evidence gaps on participation in health by developing critical theory on undertheorized aspects, which are also neglected in practice. In this first session, students learned about the importance of space in making participation successful and inclusive, and about the role of temporal, social and material aspects of participatory space in influencing participants' ability to negotiate their rights for quality health and to mobilise for better health.
In this session, students also learned about how social relationships and research practices at the core of participatory research shape the identities of participants, that is how participants see their role and capacity to influence. Dr Renedo closed this first session with a discussion about the social production of new forms of knowledge through participatory processes; what happens when the technical knowledge of researchers and healthcare providers interacts with the knowledge brought by communities?
In the second session, Dr Renedo stimulated group discussion around the guiding principles for participatory research. She introduced students to guiding principles for ensuring participatory research is ethical and inclusive to deliver bottom-up solutions for the communities we are working with. Students were tasked with planning a participatory research project with vulnerable communities. Before they started, Dr Renedo warned students about some of the potential risks of participatory research, for example, community disengagement, mistrust and reinforcement of pre-existing inequalities and power hierarchies.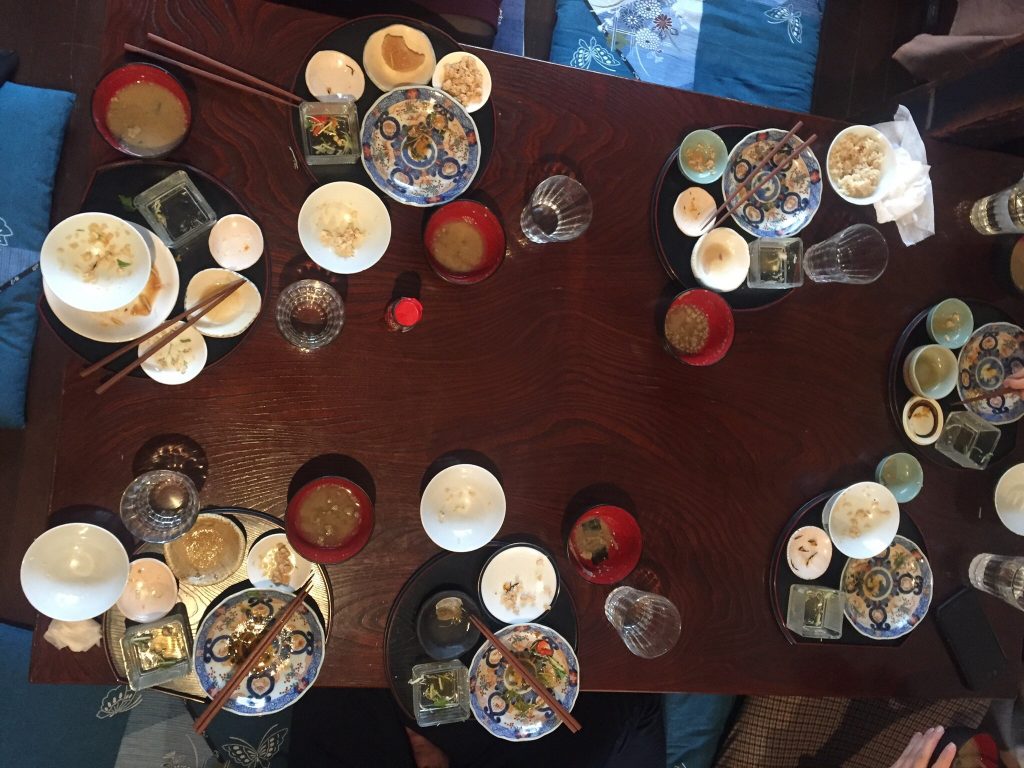 In the afternoon, Dr Renedo presented a case example of DEPTH participatory research project co-produced with sickle cell disease (SCD) patient advocates (patients with SCD and carers of patients with SCD). Her session was followed up by presentationson PAR conducted by LSHTM research degree students: Asmae Doukani, Stefanie Fringes and Chris Obermeyer.
Asmae Doukani gave a talk about her participatory research journey and reflected on her personal learnings about meaningful user involvement in the development and evaluation of digital mental health interventions. Chris Obermeyer gave an overview of his grassroots participatory research involving communities in improving PrEP promotion in Ukraine. Stefanie Fringes helped students think critically about how to do participation with young people as research partners in the context of HIV in adolescent health.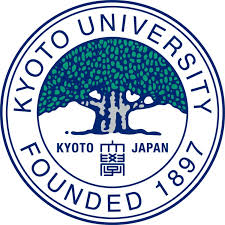 Alicia would like to give a special thanks to Ayako Kohno and Teranee Techasrivichien, from Kyoto University School of Public Health, for inviting us to participate in the workshop. She adds:
"I was truly inspired by all presentations and by Kyoto University students' critical insights into participatory research. The workshop stimulated truly collective learning. I look forward to continue conversations and see how the students can draw on the learnings from the two-day workshop in their own research."
A recording of the two-day workshop will be available via Kyoto University's website. We will add a link to these resources when they are ready.