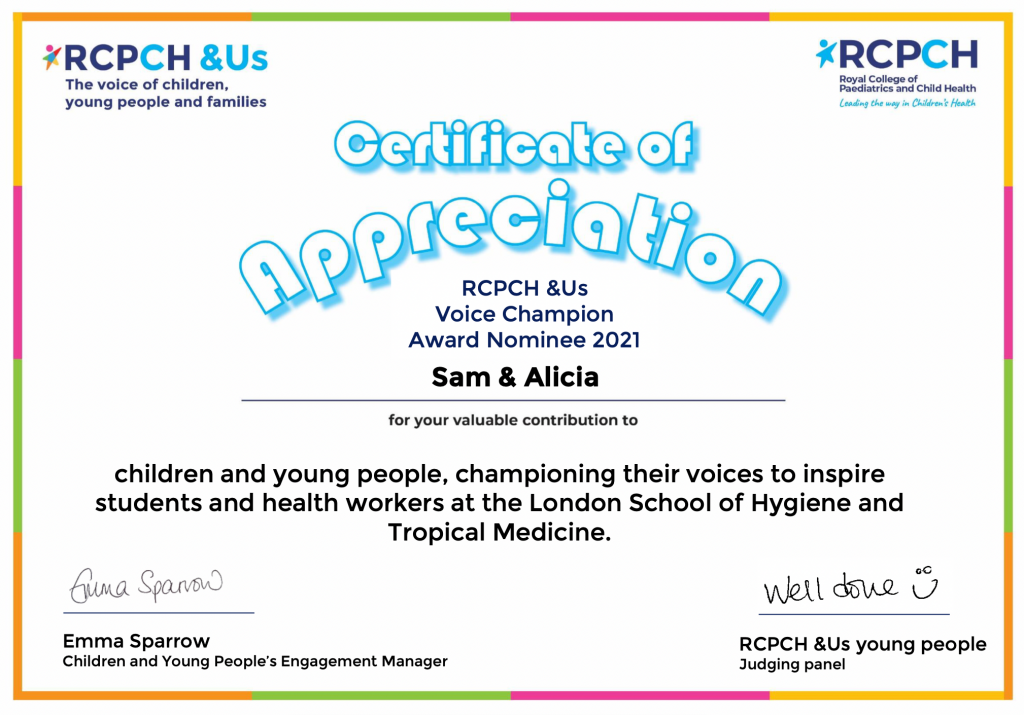 In uncertain times, it was a real morale boost to receive some good news from the Royal College of Paediatrics and Child Health (RCPCH). The RCPCH '& Us' team, who advocate for and involve children, young people and families in health services, recently told us that DEPTH researchers Dr Alicia Renedo and Dr Sam Miles from LSHTM were nominated for the RCPCH & Us Voice Champion Award.
The Voice Champion Award is a youth-led award recognising adults that go over and above their job role to work with RCPCH &Us to improve services with children, young people and families. The nominations were all anonymised and reviewed by young people from RCPCH &Us, who created criteria and a scoring system, then worked virtually together to review and discuss the fantastic nominations.

Alicia and Sam were not only thrilled to be nominated but also impressed by the youth-led nature of the nomination and award process. Putting young people at the heart of health services participation is key to how we work in DEPTH, so the RCPCH & Us Voice Champion Award feels like a real reflection of the values that we prioritise in DEPTH, too.

This Sickle Cell Life is an NIHR-funded research project that explores the voices and experiences of young people with sickle cell as they transition from paediatric to adulthood, and adult healthcare services.
Project Research Lead, Dr Renedo, says of the nomination:
"This was excellent news for the DEPTH team. We admire the work done by RCPCH &US, and they are a role model for participation, so coming from them, this nomination felt very special."
Project Principal Investigator and DEPTH Group Director Prof Cicely Marston said:
"I'm so delighted to see Alicia and Sam recognised in this way. They work really hard to make sure our participatory work is inclusive and their work with young people on this project has been brilliant." 
We feel very honoured to be nominated, and thank all of our collaborators and colleagues for their role in making This Sickle Cell Life happen. You can read an 'Evidence' brief of This Sickle Cell Life by NIHR here.