Books
Just released, and available open access as an e-book:
The Politics of Evidence: From Evidence-Based Policy to the Good Governance of Evidence Justin Parkhurst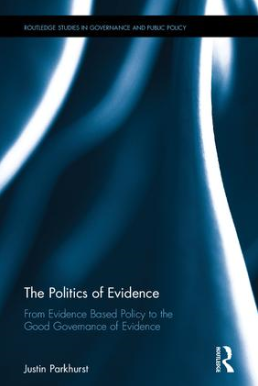 This book provides new insights into the nature of political bias with regards to evidence use, and critically considers what an 'improved' use of evidence would look like from a policymaking perspective.
Available free on ResearchGate or alternatively download a PDF here
E-book can be read (free access) here
Kindle version (free) available from Amazon. Please click on your country Amazon Kindle store or search your local store if not listed:
Hard copies can be ordered here

Currently only available in hardback. To receive a 20% discount enter the code FLR40 at the checkout (offer only available to individuals purchasing print books via

www.routledge.com

before 1st January 2017, and cannot be used with any other offer or discount).
Chapter Summaries:
---
Getting Evidence into Policy in Health : An international public policy perspective By Justin Parkhurst, Stefanie Ettelt, Benjamin Hawkins (editors)
This book draws together the findings of the GRIP-Health study.
Available mid-2017