One day last week, for a bit of light relief from staring at my computer screen, I decided to browse through some of the volumes from the Library's Report Series Collection.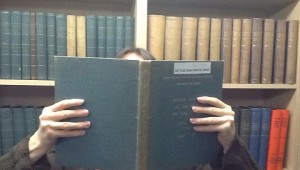 I was flicking through some pages of the 'Report on the Work of the School' for 1931/32,  and I found a few words written by W. W. Jameson (Dean of the School at that time) talking about the School's first professional librarian, Mr C. C. Barnard:
"A library's most important function, he observes, to which all others should be subservient, is to act as the means of getting the right book into the hands of the right reader…"
Well I can't disagree with that! But the Library manages a few more functions beyond that nowadays. We certainly have more than just books available, and one of our lesser known collections is the Report Series Collection.
So what is in the Report Series Collection?
The Report Series Collection is a print collection which includes series containing statistical data, morbidity and mortality statistics, and some select annual reports. It is not a collection of one-off reports on specific subjects – these are treated as books or pamphlets.
Here are just a few examples of report series we hold:
Amongst our UK & Ireland reports we have the Registrar-General's Statistical Review of England and Wales from 1921  and the Annual Report of the Registrar-General of Births, Deaths and Marriages in England and Wales from 1838. We hold similar titles for Scotland and Ireland.
We also hold various volumes from the Censuses of England and Wales from 1801 to 2001, along with some census reports for Scotland and Ireland.
We have the School's Annual Report (previously entitled 'Report on the Work of the School') from 1924/25 onwards.
Amongst our international reports you can find the Annual Report from the Calcutta School of Tropical Medicine and Hygiene from 1929 and the Annual Report of the East African Virus Research Institute from 1950-1976.
We also hold a selection of statistical series from international organisations such as the World Health Organization, the World Bank and the United Nations.
Where can I find the Library's Report Series Collection?
Reports covering the UK & Ireland are on open access in the Periodicals Room in the Library. Our international reports are held in the Library's basement store and can be ordered from the Library Enquiries Desk. As with all our collections, you can search for specific titles on the library catalogue.
Can I borrow them?
All items in our Report Series Collection are for reference within the Library – they cannot be borrowed.
Nowadays the Internet is a very good source for statistical information and annual reports, but if you are interested in this area you may also like to take a look at this collection.