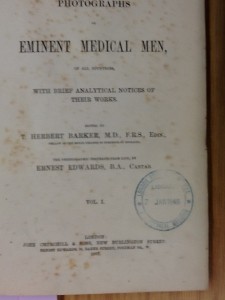 "Photographs of eminent medical men, of all countries", was published by John Churchill in London, 1867-68 in 2 volumes. It contains the portraits of 48 leading Victorian doctors each accompanied with a biography. The portraits were the work of photographer Ernest Edwards (1837-1903) who had a studio in London at 20 Baker Street. The portraits give an interesting glimpse of the photographer's props used for these distinguished sitters such as voluminous drapes and heavy wooden carved desks and chairs.
Edwards was then only a young man and it must have been quite a coup to have these eminent men walking in to his studio to sit for their photographs. The title is rather ambitious stating 'men from all countries' because there is only one foreigner in it – Frans Cornelius Donders – the rest are all Englishmen! Included are W.A. Guy, statistician; R.H. Gardiner, lunacy specialist; A.S. Taylor, toxicologist; Peter Mark Rojet of "Rojet's thesaurus" fame; Sir William Fergusson and Sir Henry Holland, Queen Victoria's physicians, to mention just a few.
Edwards was responsible for a larger, earlier work, "Photographic portraits of men of eminence in literature, science and art. With biographical memoirs" (1863-1867). Published in 6 volumes, each with 24 albumin prints. According to Lorraine Portch of the Natural History Museum, who has done some research into the subject, the 'men of eminence' were invited to submit their own biographies thereby presumably pretty much writing the book themselves! Charles Darwin recognised the value of having photographs in his later books, and some of Edwards' images were published in "The expression of emotions in man and animals" (1872)
www.newscientist.com/gallery/mg20227142000-darwins-camera .