In 2015 the
National Institute for Medical Research
(NIMR) became part of the
Crick Institute
, and earlier this year staff from the NIMR swapped their panoramic views in Mill Hill for a new state-of-the-art building at St Pancras.  As part of this move the Library at Mill Hill was closed and the opportunity for adding some of the reports held at the NIMR to the School's Library collection became available.  It also enabled a quick tour of the historic cruciform building before the doors closed and Barratt London transform the
site into housing
.
Reports from the following have been added to the School's collection:
British Empire Cancer Campaign
Cancer Research Campaign
Commonwealth of Australia, Council for Scientific and Industrial Research
Commonwealth of Australia, National Health and Medical Research Council
Commonwealth Scientific and Industrial Research Organization, Australia
Indian Council of Medical Research
Indian Research Fund Association, Scientific Advisory Board
Ministry of the Interior (Egypt), Department of Public Health
Reports date from the early 1900s to the 1980s.  Full details can be found by searching in the Library's Discover search tool.
And finally, a picture of the NIMR library: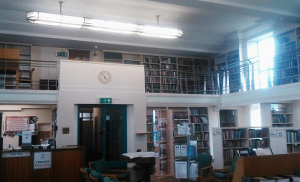 Any queries?  Contact collections@lshtm.ac.uk
Image featured in blog header from www.crick.ac.uk