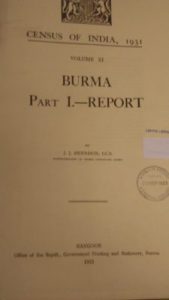 The reports series collection contains some very useful items, especially if you are looking for historical, geographical, statistical / epidemiological information.
Reports series are typically health statistics and census data produced by governmental and non-governmental organizations on a regular basis – e.g. weekly, monthly, annually, every 10 years. The name of the issuing body of a title may change over years, particularly government departments whose remit can change according to political and legislative priorities. Changes of title may reflect changes of nomenclature e.g. as the understanding of a specific disease develops, or the older nomenclature becomes undesirable, offensive or irrelevant.
In the mid-20th century came the gradual decline of colonialism and the re-drawing of political maps. The cataloguers have been working on volumes from the Census of India 1931, 1921 & 1889. While some of the States of India exist with similar names today, some volumes refer to regions now in Pakistan, Bangladesh or Myanmar.
The collection includes Medical Officer of Health reports from jurisdictions of South Africa – e.g. Port Elizabeth – during the era of apartheid when many titles appear in Afrikaans as well as English. The terms "Europeans, Coloureds, Asiatics, Natives" appear frequently in the text – e.g. when describing housing needs and disease epidemiology.
By studying these volumes, one gets an impression not only of the state public health in any one place at any one time, but also the political, social and economic background.
For some examples from the reports, follow the permalinks below to their Discover entries. Note that the volumes need to be ordered from store as we no longer have space to accomodate them the Library
Annual report of Medical Officer of Health – Port Elizabeth :
https://discover.lshtm.ac.uk/primo-explore/fulldisplay?docid=44HYG_ALMA2150574930003736&context=L&vid=44HYG_VU1&search_scope=default_scope&tab=default_tab&lang=en_US
Census of India, 1931 : Report on Burma :
https://discover.lshtm.ac.uk/primo-explore/fulldisplay?docid=44HYG_ALMA2150574930003736&context=L&vid=44HYG_VU1&search_scope=default_scope&tab=default_tab&lang=en_US
Hospital in-patient statistics, 1955 : Great Britain
https://discover.lshtm.ac.uk/primo-explore/fulldisplay?docid=44HYG_ALMA217639210003736&context=L&vid=44HYG_VU1&search_scope=default_scope&tab=default_tab&lang=en_US