Last week, LSHTM Archives held the 4th Great War Bake Off (GWBO), a baking competition that challenged LSHTM staff and students to bake using wartime recipes. The GWBO has enabled the LSHTM Archives to showcase their extensive Nutrition Collection, but also reflect on the sacrifices that soldiers and civilians faced in terms of availability of food.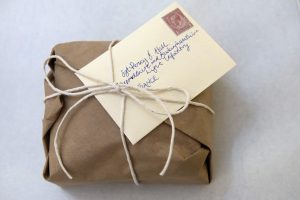 The entries this year surpassed judges' expectations, with entrants considering wartime conditions beyond merely the ingredients available. ICED's Joanna Jeremy, submitted a trench cake, made with ingredients available to a civilian during the First World War, authentically wrapped up in brown paper and string, but also with a letter, replicated by Joanna, addressed to her great grandfather, Percy, from her great grandmother, Beatrice. Joanna explained that Percy joined up in 1914 and was sent back home in 1917 after being shot in the leg. During his time at the Front, Percy was a sniper. It is no surprise that Joanna was awarded the prize for authenticity.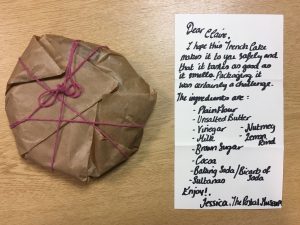 We were also sent a special delivery from the Postal Museum, who replicated how soldiers received their trench cakes from their loved ones – sending their cake to us in the post! Trench cakes were ideal for long journeys as these cakes did not deteriorate quickly, many were made using family rations and sent off in waxy brown paper for the small cost of 1 shilling and fourpence. It was a simple recipe that brought soldiers great joy after living on basic war rations. Although the Postal Museum did not win a prize, we are grateful for their efforts and tasty cake!
Students, Jessica, Joanna, Barbara, Joyceline, Melissa, and Gloria submitted a large chocolate layer cake as 'Community Tjukutjá'. They write: 'this is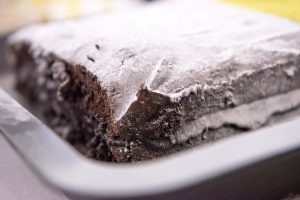 a community cake, because there was food rationing during the war, we combined everyone's ingredients to be able to bake this big cake'. The idea of forming a community kitchen is comparable to the ethos of the Home Front of unity and is a great way in interpreting the recipes of wartime.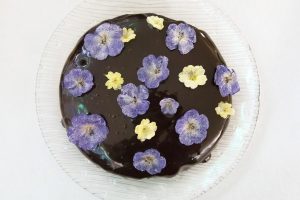 GWBO master, Adrienne Burrough, submitted not one but two cakes! A Whacky Cake – a sticky chocolate cake – and an Apple Sauce cake. Both were intricately decorated with edible flowers, and dried fruit (dried by Adrienne). Adrienne's effort resulted in her winning the prize for appearance.
The award for taste went to Rawan Gadi, whose brownies were instantly devoured when the judging concluded.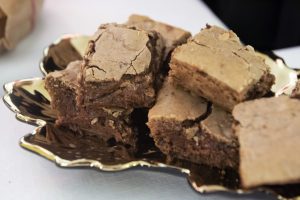 The LSHTM Archives would like to thank all those who participated in this year's event, with special thanks going to our esteemed judges, David Cole, Head of Catering, and Alan Dangour, Head of the Nutrition Group, who took time out from their busy schedules to lend us their refined taste buds. We would again like to thank Jessica of the Postal Museum for participating in our Bake Off! Finally, we would like to thank Anne Koerber for taking time out of her busy schedule to take pictures of the Bake Off and the fabulous cake. Thank you all.