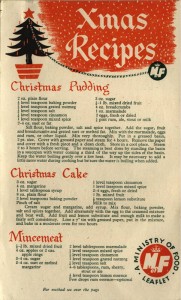 Often when we think of Christmas we associate it with indulgence, where we look forward to succulent roast dinners and copious amounts of sweet treats, but spare a thought for those who faced Christmas on rations.
From 1939 till 1954, the Home Front was subject to strict rationing on cloth, meat, and fuel, to name but a few. This meant the average civilian had to be creative with the meagre rations especially at Christmas. Fortunately, the Minister of Food produced recipe pamphlets including this one (GB 0809 Nutrition/06/05) made for Christmas in 1945. It provided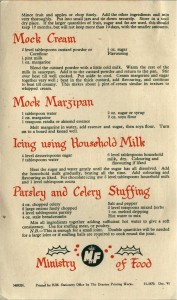 recipes for Christmas Cake, Christmas Pudding, and, perhaps more ominously, Mock Cream and Marzipan. Although we, at LSHTM Archives, have tried various wartime recipes in the Great War Bake Off, we are yet to take the plunge with these…*
You can find more Ministry of Food recipe leaflets from our Nutrition Collection, just search our online catalogue or contact the archives@lshtm.ac.uk to find out more.
*If you are adventurous enough to try one of these recipes, please tell us how it went.