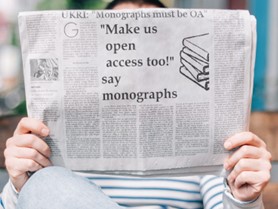 A couple of months ago we got a policy update from UKRI: from 1st January 2024 UKRI's open access policy will apply not only to research papers but also to monographs, book chapters and edited collections.
So what does this mean for researchers at LSHTM?
After 1st January 2024 the UKRI Open Access Policy will apply to:
– Peer reviewed research articles accepted after 1st April 2022.
– Long-form publications including monographs, book chapters and edited collections published after 1st January 2024.
Not sure if this applies to you?
If you have received funding from UKRI and have acknowledged it in the work, you will need to comply with UKRI's open access requirements.
How to make your long-form work open access?
If you are:
– currently applying for a research grant
AND
– you expect to publish a monograph, book chapter or edited collection before 31st December 2024 and within the lifetime of the award
You may include open access costs in your grant application.
If you will be publishing after 31st December 2024 or outside the lifetime of the award you must:
– deposit your Accepted Manuscript OR Version of Record into an online publication platform, publisher's website, or institutional or subject repository within a maximum of 12 months of publication.
Many publishers offer an open access option. They may charge for open access (see below for details on accessing funds to pay these costs), have an agreement with LSHTM or offer free open access supported via alternative funding models, such as subscribe to open models, for example.
Some publishers may not offer open access but may permit you to deposit your Author's Accepted Manuscript (a version of your accepted manuscript agreed between you and the publisher) in an institutional or subject repository, for example LSHTM Research Online.
How to pay open access costs for monographs, book chapters and edited collections?
In 2024 UKRI are creating a fund of £3.5 million, ring-fenced for making long-form outputs open access.
Applications will be made by institutions, in two stages:
Stage 1: Research organization registers the output with UKRI. A publishing contract does not need to be signed at this point.
Stage 2: Research organization provides final confirmation of publication. UKRI releases funds.
The following information will be required at each stage:
At stage 1:
Name of research organisation
UKRI funding reference
Author name(s)
Title of publication
Name of publisher
Estimated cost (if known)
Statement about relationship of the output to the UKRI funded project or grant, including the authors role in this
At stage 2:
Date of publication
Confirmation of open access publication
Financial information
Any changes to the information provided at stage 1
UKRI will confirm if a publication is eligible for funding after a stage 1. Successful applications will need to demonstrate a substantial link between the publication and UKRI research funding, as well as between the author and UKRI research funding.
We will publicise details on how to get this information to us nearer the time the fund opens.
Policy exemptions
– Where you have signed a contract with the publisher before 1st January 2024 your publication will not need to comply with this policy. You can make your publication open access before this date if you include open access costs in your grant application, but it is not a UKRI requirement until after this date.
– Where the only appropriate publisher is unable to offer an open access option that complies with UKRI's policy
– Where a monograph, book chapter or edited collection is the outcome of a UKRI training grant (open access is encouraged but not required)
– Reuse permissions for third-party materials cannot be obtained and there is no suitable alternative to enable open access publication
The following publication types are out of scope of the policy and so do not need to be made open access, and will not be eligible for the new funding.
– Trade books, unless they are the only output from UKRI-funded research.
– Scholarly editions.
– Exhibition catalogues
– Scholarly illustrated catalogues
– Textbooks
– All types of fictional works and creative writing.
More information can be found in the UKRI Open Access Policy or at UKRI's dedicated webpages on making monographs open access and funding for open access.
We'd love to answer any questions. Comment below or contact us on Service Desk.