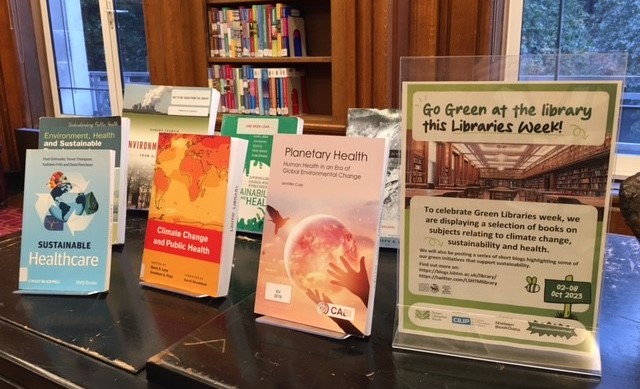 Every year Libraries Week celebrates the contribution that libraries have to offer their communities across the UK. Libraries Week is organised by the library and information association, CILIP and the theme this year is climate change and sustainability:
"In 2023, Libraries Week becomes Green Libraries Week, a celebration of the transformative role of libraries and information services in all sectors to address sustainability and climate change." (Source: CILIP, Libraries Week. accessed: 25 September 2023).
The rapid change in our climate, mainly caused by unsustainable human activity such as the burning of fossil fuels, is causing extreme weather conditions across the planet. This can impact severely on more vulnerable populations, exacerbating existing inequalities:
"Climate change can affect our health, ability to grow food, housing, safety and work. Some of us are already more vulnerable to climate impacts, such as people living in small island nations and other developing countries. Conditions like sea-level rise and saltwater intrusion have advanced to the point where whole communities have had to relocate, and protracted droughts are putting people at risk of famine. In the future, the number of "climate refugees" is expected to rise." (Source: United Nations. What Is Climate Change? accessed: 25 September 2023).
Although solutions are needed on a global level, libraries have their own part to play by by putting environmental impact and sustainability as an integral part of the planning and delivery of their services, for example. recycling waste, using ethical suppliers etc.
During Green Libraries Week we will be putting out a series of short blogs highlighting a few of the measures we have already put in place in our own library with sustainability and climate change in mind.
There is also a book display in our main reading room showing a selection of titles in our collections on subjects relating to climate change and sustainability. You can search our collections and resources using our search tool Discover.
See what is going on during Green Libraries Week by following @librariesweek on Twitter/"X".
(Featured image courtesy of: https://librariesweek.org.uk/libraries-hub/logos/).
Further resources:
https://www.cilip.org.uk/page/GreenLibraries
https://www.un.org/sustainabledevelopment/climate-change/
Books on Display:
Sasser, Jade. On Infertile Ground: Population Control and Women's Rights in the Era of Climate Change. New York: New York University Press, 2018.
Hutchinson, Emma, and Sari Kovats, eds. Environment, Health and Sustainable Development. Second edition. London: Open University Press, 2016.
Frumkin, Howard, ed. Environmental Health: from Global to Local. Third edition. San Francisco: Jossey Bass, 2016.
Schroeder, Knut. Sustainable Healthcare. Chichester, West Sussex: John Wiley & Sons, 2013.
Des Jardins, Joseph R. Environmental Ethics: an Introduction to Environmental Philosophy. 3rd ed. Belmont, CA: Wadsworth Thomson Learning, 2000.
Brown, Valerie A. Sustainability and Health: Supporting Global Ecological Integrity in Public Health. London: Earthscan, 2005.
FitzRoy, Felix, and Elissaios Papyrakis. An Introduction to Climate Change Economics and Policy. London; Sterling, VA: Earthscan, 2010.
Cole, Jennifer. Planetary Health: Human Health in an Era of Global Environmental Change. Oxfordshire, UK ; Boston, MA: CABI, 2019.
Levy, Barry S., and Jonathan Patz, eds. Climate Change and Public Health. Oxford; New York: Oxford University Press, 2015.
Butler, Colin D. Climate Change and Global Health. Wallingford, Oxfordshire; Boston, MA: CABI, 2014.
The Anatomy of a Silent Crisis. Geneva: Global Humanitarian Forum, 2009.
Bodansky, Daniel, Jutta Brunnée, and Lavanya Rajamani. International Climate Change Law. Oxford: Oxford University Press, 2017.
Griffiths, Jenny. The Health Practitioner's Guide to Climate Change: Diagnosis and Cure. London; Sterling, Va.: Earthscan, 2009.
Coutts, Christopher. Green Infrastructure and Public Health. Abingdon, Oxon: Routledge, 2015.
Yap, Christopher. Thinking Beyond Sectors for Sustainable Development. Ed. Jeff. Waage and Christopher Yap. Place of publication not identified: Ubiquity Press Ltd, 2015.