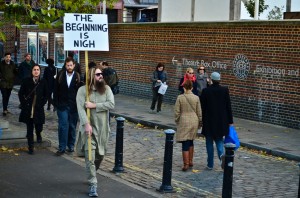 Some rights reserved by garryknight CC BY-SA 2.0
With the beginning of a new year and a new blog we thought it would be good to look over what exactly we did last year in LSHTM Research Online so..
Etheses: http://researchonline.lshtm.ac.uk/view/theses/archive.html
In April last year we began depositing digital copies of past theses from LSHTM and as of today have 296 theses from 1950 to the present. From this year we are asking all newly graduating students to provide us with a digital copy. Theses are often one of the most popular items within Research Online. It helps new students, prospective students and those with an interest in our research to discover just what work we do. To help ease students into this we ran a number of workshops on this, where we had some strong dialogue which we took on board and hopefully now have addressed certain worries. I also hosted a couple of drop in sessions at Tavistock and Keppel St which sadly were not very popular so will be asking students to arrange one to one sessions with me to cover any issue that they find perplexing or worrying.
Final sign off:
Throughout the year we worked on a number of developments and were finally able to sign off our original contract with ULCC. They will still continue to host our repository and will also be working on new developments but it was good to finally say a partial goodbye!
RUCK Open Access Fund:
One big item of news not just for Research Online but for Open Access and Higher Education institutes was the start of RCUK's Open Access mandate http://www.rcuk.ac.uk/research/Pages/outputs.aspx . This states that all articles and conference proceedings that are the result of their funding must be made open access immediately or within 6-24 months depending on discipline (Biomedical must be available no longer than 6 months after publication). This can be achieve 2 ways green (author accepted manuscript, possible embargo, with no fee payable) or gold (publisher pdf, immediately available, fee possible). The School has a fund to help with fees but it is up to the author how they elect to make their research open, green or gold http://www.lshtm.ac.uk/library/specialist_services/open_access/index.html It is also worth noting that RCUK are asking that authors include a statement on how any underlying data can be accessed, this is a new thing for all and one that will grow and more attention will need to be given to it.
IRUS:
We joined IRUS which is a national repository benchmarking service that provides us with statistics on our repository, it's downloads and ability to compare ourselves to other UK repositories. It is not a 'competition' but it does allow UK repositories to gather information about the use of their services and to promote them.
Details about the items we have in Research Online is now being fed through to the Primo service which is a search engine used by numerous other universities that pulls together library catalogues and repository items, thereby increasing our discovery just by our items appearing in students general library searches.
Various Statistics:
Stats! We love 'em or rather there's loads to choose from. With relief and a chant of 'we told you so' we discovered that the stats we were being given from our in-house stats software IR-Stats was wildly wrong, in fact shockingly low. Our relatively low download statistics in the early part of 2013 were further investigated and a fault was found in our IR stats with the counting of downloads and use of cover-pages. The issue was resolved over the summer and we now have much more accurate (and improved!) download figures from September onwards (December we had nearly 20,000 downloads). Work is continuing on retrospectively fixing download statistics for before September and we hope to have this complete by the end of January. The downloaded items were quite evenly spread but the more popular ones benefited from being publicised via twitter, blogs, the press office obviously got a lot more.
We are also gathering stats from Google Analytics but we still want to dig deeper here since there is so much information, if anyone knows of good Google Analytics course let us know! And we had stats from IRUS (mentioned above) this allowed us to compare with our stats and after a bumpy first month there isn't too much difference in them but the good thing is that we can see how we fare against others and we're not too bad…One thing we have been looking at and are wanting to explore more is Altmetrics. This is a way of providing metrics that do not simply rely on downloads or citations but also by social media, it's still early days for this but being able to supply different metrics that are maybe more suited to an online social world could be a good thing and maybe more important in the years to come when we consider 'impact'. I suppose here is a good time to say a little sorry to those following the library twitter feed who suddenly find a deluge of tweets about new #openaccess papers!
LSHTM Research Online in 2013 – key statistics:
Beginning the year started off with greater acknowledgement of the issue of 'predatory publishers' the result in no small account of Jeffrey Beall. He highlighted the entry of dubious enterprises into the open access world looking to capitalise on funds made available for open access, sadly these publishers were in the main not looking to 'further' science but to line pockets. Beall also ended the year with an article castigating the whole open access movement as anti-corporate, politically correct and pushed 'by an onerous cadre of Soros-funded European autocrats' http://www.michaeleisen.org/blog/?p=1500 Lively it definitely was
HEFCE: http://www.hefce.ac.uk/whatwedo/rsrch/rinfrastruct/oa/
Other big news this year was HEFCE's announcement that they are considering how to use evidence of Open Access in the next eagerly awaited REF (2020? 2025?). This has caused lots of discussion, excitement and groans all around among repository managers, research offices, senior management and academics. Their proposal is that outputs would only be eligible for the next REF if they were Open Access and deposited into a repository e.g. Research Online. Unlike RCUK they will not be providing any extra funds to help with this. Will this mean more 'green' or more 'gold'? what will it cost?
Wellcome CC-BY, monographs, book chapters, research data:
Wellcome continued their push on open access by announcing new details on their open access mandates, including getting 'stricter' http://www.wellcome.ac.uk/About-us/Policy/Policy-and-position-statements/WTD002766.htm  and requiring the Creative Commons license CC-BY which is the most liberal of the licenses and at times the most controversial since it allows 'commercial reuse'. Why would they want that? Wellcome state that this license allows the work to be distributed even more, it allows companies to reuse the research, allows translations and removes worries about the posting of articles on blogs that contain 'adverts'. Most publishers have been happy with this since they charge a little more but Elsevier seem to be dragging their heels on this and instantly applying the non-commercial license even when they know it is Wellcome funded hopefully they will actually help next year.
Wellcome also made a move towards making book chapters and monographs open http://www.wellcome.ac.uk/About-us/Policy/Spotlight-issues/Open-access/Monograph-deposit/index.htm . While we do actually have 3 book chapters open access it will interesting to see how this develops. Monographs and book chapters have traditionally been published by those in Public Health and particularly the History department. Those with newly awarded grants from October 2013 who are submitting book chapters and monographs for publication will have to arrange for them to be made open access, those with older grants have until October 2014 to begin this process. It will be interesting to see this change to the open access landscape. Wellcome will cover all fees but what they are we just don't know, as ever contact us to find out more.
As with RCUK and a universal trend to investigate research data and make it available Wellcome are now also requiring that papers include a statement about how any underlying data can be accessed and encourage the deposit of such datasets in suitable repositories http://www.wellcome.ac.uk/stellent/groups/corporatesite/@policy_communications/documents/web_document/wtp053977.pdf . At LSHTM we have Gareth Knight who is our Research Data Manager who is in the process of helping develop policies and tools that will meet such requirements. More about this project here https://blogs.lshtm.ac.uk/rdmss/
Elsevier:
Elsevier, the most discussed of the big publishers, made some interesting moves into the world of online networks for science and academics. In April they bought the very popular Mendeley , a site for connecting and sharing for academics which caused some uproar and promises of membership cancellation . Then in December Elsevier caused more uproar sending a raft of take down notices to Academia.edu a similar site to Mendeley and to UK Universities These were aimed at the removal of publisher pdf's that academics upload to Academia.edu and to their University websites in the hope of sharing. Controversial since it was felt by some that it was a bad PR move by Elsevier even though they are entirely within their rights. Was it a move to hit out at 'rivals' to Mendeley? One reason to bring this up is the continued growth in LSHTM staff using ResearchGate, yet another academic social site, are they next to get take down notices? One thing it all helps to highlight is the issue of ownership, who does own the research? Who gets to share that research? The authors? The publishers?
REF:
REF was submitted end of November! While the repository system was not directly involved in this (unlike in other institutions) the indication is that it may well be used in the next one whenever that is. However Research Online staff, myself and glamorous sidekick Emma Golding were also beavering away double checking all the items submitted (yes me and Emma also lurk behind the publications inbox). Though are contribution was pretty minor in comparison to the great Andy Reid!
OA week: http://www.openaccessweek.org/
After last year's cross institutional conference we took a more low-key approach this year, with a drop in session outside the Manson though we mainly got students attracted by the free bags from BioMed Central. One thing we did look at was what articles published by LSHTM were unavailable through our own subscriptions, a sort of 'closed access' approach! Which kinda seemed appropriate with the launch of the Open Access Button which allows anyone to record where they have hit a paywall and hopefully find an 'open' version of a paper (I encourage everyone to install it)
There's always lots to do and the world of Open Access and repositories doesn't seem to sit still, there will inevitably be more changes, more confusion but hopefully more access.