A new HIV/AIDS collection has been kindly donated to the LSHTM archives today. The papers relate to the working life of Dr Joseph Sonnabend (b. 1933), physician, clinical researcher, and community activist who played a significant role in the fight against AIDS from it's earliest onset in the United States.
The collection consisting of over 100 archival boxes, chiefly relates to his experience treating and researching AIDS in New York City and includes extensive research notes, laboratory notebooks, research data, scientific articles and medical records of patients he treated in his Greenwich village private practice along with material relating to his involvement in community based research such as papers relating to AIDS Medical Foundation (which he co-founded) and and the Community Research Initiative/Community Research Initiative on AIDS, as well as the PWA Health Group.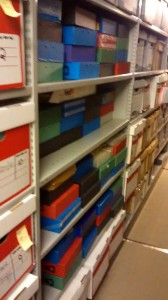 Alongside the material relating to AIDS, the archives also holds research papers from his earlier career as a virologist studying interferon with Alik Isaacs, one of the discoverers of interferon. He spent more than a decade studying interferon largely for the Medical Research Council based in Mill Hill but later in the United States. Papers also include his work on infectious and venereal diseases in the States and include one of his earliest medical posts as a medical investigator onboard a ship returning Muslim pilgrims to Indonesia during an epidemic of meningitis.
In addition, to the papers deposited at the LSHTM archives and equally significant archive collection is held at the New York Public Library. The online catalogue provides a more comprehensive biography of Joseph's pioneering work fighting AIDS in the United States.
The collection was generously donated by Dr Sonnabend himself and sorted and arranged by his long standing friend and AIDS archivist, Simon Watney. On behalf of the archive team we wish to thank them both for their hospitality and help in moving the archives.