By Sheila Mercieca
And here's how….
But first, for those of you who don't know me, and outside of the archives and records management team, that's most of LSHTM, I'm Sheila Mercieca, MA student on the Archives and Records Management course at UCL. It has been my great pleasure to spend the last two weeks working as a student placement alongside Victoria Cranna (Archivist and Records Manager), Claire Frankland (Assistant Archivist), Aisling O'Malley (Archives Assistant), and Gareth Knight (Research Data Manager), in the Archives and Records Management department at LSHTM.
The first extra mile…
Security staff who smile
Catering staff who greet
Portering staff who assist
It made such a good impression on me that the community with whom I was working all made me feel welcome. It wasn't just the first day, but every day!
The second extra mile…
Throughout the process of attempting to achieve my task; to sort, list, arrange, repackage, and catalogue a collection, I have been supported by the unstinting patience, guidance, and expertise of Victoria, Claire and Aisling.
Here's a 'before' picture of the collection with which I was tasked.
And here's 'after'
In the process of 'processing' Erica Wheeler's collection I have become familiar with the extent of her work, and the importance of Human Nutrition. This placement has enabled me to experience what it is like to be a practitioner; to experience the intellectual challenge of 'arrangement'; to make this asset rich resource discoverable. The reward for me in accomplishing the objectives of this placement lie in knowing that my intervention has made Erica Wheeler's papers available to future researchers.
And who will be the first to access this valuable asset?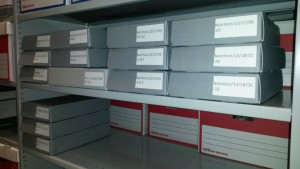 The Erica Wheeler collection upon which I have worked will go 'live' soon on the archives catalogue.
In the meantime, you can read Virginia Berridge's, Professor in History and Director of the Centre for History in Public Health at LSHTM, transcript of an oral history recording that provides insights into the personalities, including Erica Wheeler, and the work behind the Human Nutrition Unit.
The third extra mile…
People who care
I am looking forward to completing my studies and becoming a fully fledged and practitioning archivist and records manager, and I hope that wherever that will be I might discover more people who care as much about their work as those that I met at LSHTM. So, thank you Claire for your advice on taking the macro not the micro approach to sorting; thank you Victoria for the advice on data protection; thank you Aisling for your advice on social media; and thank you Gareth for your advice on archival terminology mapping. Thank you also to the very kind and generous Josenir Astarci in MSD for taking the time and trouble to help me in my quest for an LSHTM diary.
Final thought…
Good luck and future success in your work to all the students and academics at LSHTM
Look out for a future blog celebrating the life of Erica Wheeler in the near future
For more information about the archives email archives@lshtm.ac.uk