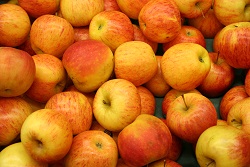 No, not the brand, the actual fruit.
Happy Apple Day! #AppleDay (21st October 2016)
https://www.daysoftheyear.com/days/apple-day/
After you celebrate this humble fruit by consuming a few outside of library premises and boosting your nutrition, why not visit LSHTM Library and discover a whole gamut of all things to do with nutrition and apples.
Use our powerful browser tool called Discover: http://bit.ly/1MmT8an . Type "nutrition" and/or "apples" in the search box and see what we have to offer.
Go here http://bit.ly/2e3JP1Z for online access to MSc Nutrition for Global Health projects
Visit the Reading Room of the Library and browse through shelves of nutrition books with the classmark BEX up to BEXS.
If you want to know more about our collection on all things to do with nutrition, just ask at the library's enquiries desk.
Unlike your teacher, you won't have to bring your friendly library staff an apple.