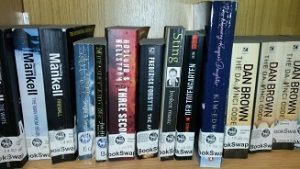 Along with Forsyth, Mankell, Sting :-) and a few of your favourite fiction and other genre authors.
Why not pop over to our Bookswap area in the Library foyer and have a gander?
Take any book labelled "Bookswap" for as long as you want.
You can even donate any excess fiction books clogging up your own collection for others to enjoy.
Just ask your friendly library staff at the library's Enquiries Desk for further information.
Happy reading!