You find a citation for an article in a little-known journal that is just right for your dissertation. Unfortunately, the library doesn't subscribe and you haven't time to wait for an interlibrary loan.  You are looking for grey literature (such as conference reports and dissertations) but Google Scholar catches far too much or too little. You're interested in clinical trials on a particular medicine, but those where the results have not been published in medical journals.https://scholar.google.co.uk/
The good news is that there is a veritable bookshelf full of website and projects will help you locate just these kind of research outputs, from raw data to peer-reviewed articles, and what's more they are freely and legally available as open access.
So here are five to get you started:
 1. Pressing buttons
Open Access Button can be added to your browser to take you to legally uploaded articles, generally the accepted manuscript (Green Open Access) or PDFs made open access on the publisher's website (Gold Open Access). It is also is available as a search engine. You can search using the article URL, DOI, PubMed ID, PubMed Central ID, title or citation.
2. Trial issues
Open Trials is collaborative and open linked database for all available structured data and documents on all clinical trials, threaded together by individual trial. It is designed to host and match registry entries; links, abstracts, or texts of academic journal papers; portions of regulatory documents describing individual trials; structured data on methods and results extracted by systematic reviewers or other researchers; clinical Study Reports; and additional documents such as blank consent forms, blank case report forms, and protocols.
3. Is there a doctoral thesis in the house?

No longer are PhD and other doctoral theses only to be found buried in the dusty basements of libraries. EThOS: e-theses online service is a national aggregated record of all doctoral theses awarded by UK Higher Education institutions maintained by the British Library. There are approximately 450,000 records relating to theses awarded by over 120 institutions. Around 160,000 of these also provide access to the full text thesis, either via download from the EThOS database or via links to the institution's own repository. DART-Europe E-theses Portal is a searchable index providing access to over 700,000 open access research theses from 606 Universities in 28 European countries.
4. Opening the door to research
Directory of Open Access Journals is a community-curated list of open access journals, which is a starting point for all information searches for quality, peer reviewed open access material.  DOAJ aims to be comprehensive and cover all open access scientific and scholarly journals that use a quality control system to guarantee the content.
5. It's not uncommon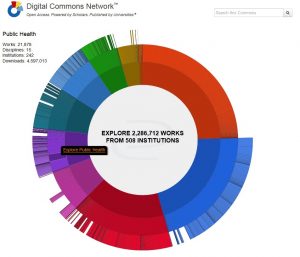 The Digital Commons Network brings together free, full-text scholarly articles from hundreds of universities and colleges worldwide. Curated by university librarians and their supporting institutions, the Network includes a growing searchable collection of peer-reviewed journal articles, book chapters, dissertations, working papers, conference proceedings, and other original scholarly work.
___________________________________________________
Obviously, being indexed and available through one of these sites does not guarantee the quality of research articles and data. Critical assessment and having an overview including other published studies is essential.
But the good news is that the quantity and findability of research outputs published open access is growing all the time.