October 10th is World Mental Health Day.   LSHTM Library has items on mental health classified at
UJ
– currently shelved in the front left corner of the Barnard Room.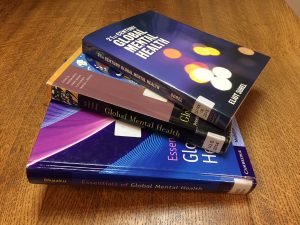 Some books from the collection:
Global Mental Health : Principles and Practice, edited by Vikram Patel, Harry Minas, Alex Cohen, Martin J. Prince (2014).
Furthers the scientific basis of global mental health and offers practical ways of implementing programs.
And three of the editors are LSHTM professors!
Library shelfmark: UJ.S 2014
21st Century Global Mental Health, edited by Eliot Sorel (2013).
Epidemiology and diagnostic systems; determinants of mental health; mental health of populations; evaluating and strengthening systems; human rights, stigma, policy and the media.
Library shelfmark: UJ.RX.09 2013
Essentials of Global Mental Health, edited by Samuel O. Okpaku (2014).
A broad range of topics – setting up integrated mental health systems, advocacy and reduction of stigma, special populations such as child soldiers, depression and suicide and more. 
Library shelfmark: UJ.S 2014
---
A little more specialised: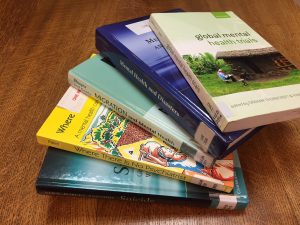 Mental Health and Disasters, edited by Yuval Neria, Sandro Galea, Fran H. Norris (2009).
Psychopathy, resilience, interventions and case studies.
Library shelfmark: UJR 2009
Suicide : Global Perspectives from the WHO World Mental Health Surveys, edited by Matthew K. Nock, Guilherme Borges, Yutaka Ono (2012).
Epidemiology of non-lethal suicide behaviour with data from 100,000 study participants.
Library shelfmark:  UJXS 2012
Migration and Mental Health, edited by Dinesh Bhugra and Susham Gupta (2011).
A resource for improving cultural competence in clinical and policy-making settings.
Library shelfmark:  UJ.S.ZR 2011
Global Mental Health Trials, edited by Graham Thornicroft, Vikram Patel (2014).
Practical information on conducting randomised controlled trials evaluating care in low-resource settings.
Library shelfmark: UJ.S 2014
Where There is No Psychiatrist : a Mental Health Care Manual, by Vikram Patel (2003).
From LSHTM's Professor Vikram Patel, empowering healthcare workers in under-resourced communities to build mental health care into existing services.
Library shelfmark: UJ.R.03 2003
---