To showcase the wide array of Open Access books freely available online, and in the spirit of
International Open Access Week
, LSHTM's team in the Library have put together, in true Waterstone's style, a shelf each of their favourite selections of Open Access books and materials. These are available to read, watch, download and re-use, all for free.
Simply click below to go to our interative Open Access bookshelf, where you can download the 'shelved' books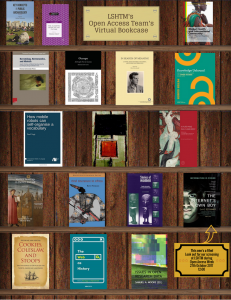 "Free texture wood" by Alexandra Bolotina\ Александра Болотина is licensed under  CC BY 2.0
In case the images are too small, staff wish lists/recommendations are listed below. If you want to have a browse for yourself, we found these books in the OAPEN Library
Happy Reading!
LSHTM Open Access Team
Dom W
Key Concepts in Public Archeology Taken from – https://www.ucl.ac.uk/ucl-press/browse-books/key-concepts-in-public-archaeology. To view a copy of this licence visit: https://creativecommons.org
The Academic Book of the Future Taken from – https://link.springer.com/book/10.1057%2F9781137595775. To view a copy of this licence visit: https://creativecommons.org/version4
Global Health and International Community: Ethical, Political and Regulatory Challenges Taken from – https://www.bloomsburycollections.com/book/global-health-and-international-community-ethical-political-and-regulatory-challenges/. To view a copy of this licence visit: https://creativecommons.org/licenses/by-nc/3.0/

Alice F

How mobile robots can self-organise a vocabulary Taken from – http://oapen.org/search?identifier=603358. To view a copy of this licence visit: https://creativecommons.org/licenses/by/4.0/
Samuel Beckett and the primacy of love Taken from – http://oapen.org/search?identifier=341373. To view a copy of this licence visit: https://creativecommons.org/licenses/by-nc-nd/3.0/
A Pure Mind in a Clean Body: Bodily Care in the Buddhist Monasteries of Ancient India and China Taken from – http://oapen.org/search?identifier=466590. To view a copy of this licence visit: https://creativecommons.org/licenses/by-nc-nd/3.0/
Alice G
Vertical Readings in Dante's Comedy: Volume 1 Taken from – http://oapen.org/search?identifier=633753;keyword=Vertical%20Readings%20in%20Dante%27s%20Comedy:%20Volume%201. To view a copy of this licence visit www.creativecommons.org/licenses/by-nc-sa/4.0/
Oral Literature in Africa Taken from – http://oapen.org/search?identifier=633751;keyword=in%20africa. To view a copy of this licence visit: http://creativecommons.org/licenses/by/4.0/
Stories of Women: Gender and Narrative in the Postcolonial Nation Taken from – http://oapen.org/search?identifier=628400;keyword=oral%20africa. To view a copy of this licence visit: https://creativecommons.org/licenses/by-nc-nd/4.0/
The Internet's Own Boy: The Story of Aaron Swartz Brian Knappenberger: Free Download & Streaming: Internet Archive Taken from – https://archive.org/details/TheInternetsOwnBoyTheStoryOfAaronSwartz. To view a copy of this licence visit www.creativecommons.org/licenses/by-nc-sa/4.0/
John H
Narratology, Hermeneutics, and Midrash: Jewish, Christian, and Muslim Narratives from the Late Antiquity through to Modern Times Taken from – http://www.oapen.org/search?identifier=626985;keyword=Narratology,%20Hermeneutics,%20and%20Midrash%20:%20Jewish,%20Christian,%20and%20Muslim%20Narratives%20from%20the%20Late%20Antiquity%20through%20to%20Modern%20Times. To view a copy of this licence visit: https://creativecommons.org/licenses/by/4.0/
Occupy: A People Yet To Come Taken from – http://www.oapen.org/search?identifier=577045. To view a copy of this licence visit: https://creativecommons.org/licenses/by-sa/4.0/
In Search of Meaning: Ludwig Wittgenstein on Ethics, Mysticism and Religion Taken from – http://www.oapen.org/search?identifier=422396. To view a copy of this licence visit: https://creativecommons.org/licenses/by-nc-nd/3.0/
Knowledge Unbound: Selected Writings on Open Access, 2002-2011 Taken from – https://mitpress.mit.edu/books/knowledge-unbound. To view a copy of this licence visit: http://creativecommons.org/licenses/by/4.0/
Gareth K
Cookies, Coleslaw, and Stoops: The Influence of Dutch on the North American Languages Taken from – http://oapen.org/search?identifier=341464. To view a copy of this licence visit: https://creativecommons.org/licenses/by-nc/3.0/
The Web as History Taken from – http://oapen.org/search?identifier=625483. To view a copy of this licence visit: https://creativecommons.org/licenses/by/4.0/
Issues in Open Research Data Taken from – http://oapen.org/search?identifier=533882. To view a copy of this licence visit: https://creativecommons.org/licenses/by/3.0/
OERs
There are also some fantastic Open Educational Resources (OERs) available online that are worth exploring, like this four-part series on Water and Sanitation, featuring work available on Research Online: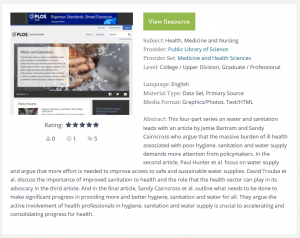 …and this course on Public Hygiene and Epidemiology: