Each month, the Research Publications Team will aim to provide a roundup of open access and scholarly communications news. In addition, we'll highlight any tips, tricks and tools we've come across that help to make disseminating, finding and using open access content easier. Here's our roundup for October 2017.
Open Access Week 2017
We held a range of events and activities for Open Access Week, held from 23rd to 29th October, including a drop-in at Tavistock Square, a stall in the Staff Marketplace and a showing of the film The Internet's Own Boy: The Story of Aaron Swartz. Our 'Emoji Your OA Research' competition was won by the SHARE consortium researchers for their emoji depiction of their article Effect of a behaviour-change intervention on handwashing with soap in India (SuperAmma). They receive a prize of a £25 voucher. Congratulations!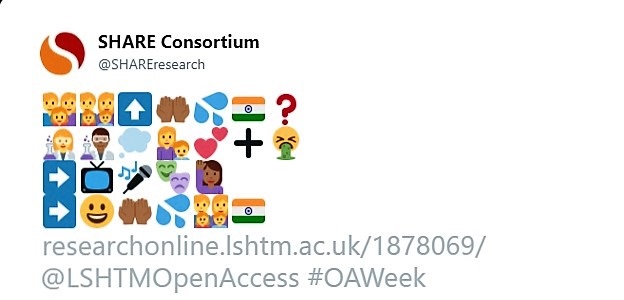 ResearchGate under pressure from publishers
The social research site ResearchGate, where over 14 million researchers — about 60 per cent of academics — share their work has come under attack from publishers for having copyright material available on their site. Researchers often upload PDFs of published articles which are not open access, so breaching their agreement with the publisher.
At the beginning of October a consortium of publishers going under the name of the Coalition for Responsible Sharing, which includes Elsevier, Wiley, Wolters Kluwer, the American Chemical Society and Brill, issued a wave of take-down notices. The effect has been dramatic. The publishers claim that the site has moved 'at least 1.7 million articles' to make them less accessible by requiring users to request a copy from the author. However, there remain 7 per cent of articles identified by CRS as infringing copyright, along with around 90 per cent of those where the copyright is owned by publishers who are not part of the coalition.
As reported in the Times Higher Education Supplement, ResearchGate's founder and chief executive, Ijad Madisch, has previously said that he 'wouldn't mind' if copyrighted material was removed from the site, as researchers could continue to share papers privately. However a spokesperson for CRS claimed that the terms of copyright only allow such articles to be shared with those 'closely related' to the research.
Request a Copy Button
Here at LSHTM, our online repository Research Online features a 'request a copy' button which enables site visitors to directly request the manuscript of any article which is not already available for immediate download.  The LSHTM author can then email the article to them. This facility has a number of benefits for the academic community. An analysis carried out by the library of the London School of Economics of similar requests from their repository, over a 12-month period, showed that almost two-thirds (64.5%) of requests were from academic staff and students. This seems to indicate that a large number of universities, particularly in  non-English speaking countries, did not have access to the journals where the articles were published. However, a further reason given was the need for researchers to access articles which had not yet been published. Almost half (49%) of requests were for papers that were currently in press. In these ways, the availability of the copy-request button makes a small but significant contribution to increasing the impact of research.
ORCID turns 5 years old

ORCID is celebrating its fifth birthday by launching a raft of new resources including a Welcome to ORCID gateway. ORCID is a persistent digital identifier that distinguishes each researcher from every other and, through integration with processes such as manuscript and grant submission, supports automated linkages between researchers and their professional activities. This ensures that a researcher's work is recognized and, as reported in our roundup for September, many publishers have committed to requiring ORCID iDs in the publishing process for their journals. Researchers can easily apply for an ORCID number for themselves here and registration takes only 30 seconds.
Termination of Transfer Tool
The Creative Commons organisation has launched a tool designed to help U.S. authors regain various rights to their research outputs, where they may have previously signed away rights to publishers. Many publishing agreements last the duration of copyright, but U.S. law offers some recourse. The Termination of Transfer Tool informs authors about what rights may be regained (e.g. the right to share an article) and how they might go about doing so.
Open Data leads to new discoveries
Back in 2014, certain datasets obtained from CERN's Large Hadron Collider, were released to the public through the CERN Open Data portal. In research published in Physical Review Letters, physicists at MIT used the data to reveal, for the first time, a universal feature within jets of subatomic particles, which are produced when high-energy protons collide. One of the MIT team, Jesse Thayler, told the science website Phys.org,"Our work here shows that we can understand in general how to use this open data, that it has scientific value, and that this can be a stepping stone to future analysis of more exotic possibilities."
LSHTM has its own online repository for research data, software code, research tools and other reusable outputs called Data Compass. The repository is soon to publish its 500th record, making it a valuable resource for researchers looking for research outputs produced by LSHTM staff and students.