This Friday (1st December) is World AIDS Day, an opportunity for everyone to unite in the fight against HIV.  The day seeks to end isolation, stigma, and HIV transmission.
More information on World AIDS Day is available here and by following the Twitter hashtag #LetsEndIt
The Library has an extensive collection of resources relating to HIV and AIDS, including journals, books (located under classmark HBZ in the Library's Reading Room), MSc projects and theses.  All resources can be found by searching in Discover.  Topics covered in the main book collection (with their related classmark):
Conference and symposium reports (HBZ.AD)
Education (HBZ.AR)
Bibliographies (HBZ.B)
Epidemiology (HBZ.E)
HIV and tuberculosis (HBZ.K)
Treatment and therapeutic aspects (HBZ.R)
Public health (HBZ.S)
Legal aspects (HBZ.T)
Social and economic perspectives (HBZ.U)
Women and children (HBZ.W)
The Library subscribes to key journal titles on HIV/AIDS, including AIDS Care, AIDS Education and Prevention, AIDS Research and Human Retroviruses, AIDS Patient Care and STDs, International Journal of STD and AIDS, and JAIDS: Journal of Acquired Immune Deficiency Syndromes.  More titles can be found by searching in Discover.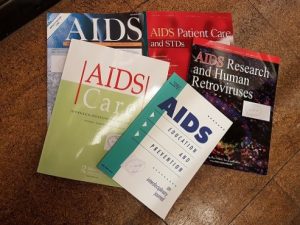 This week there is also a display in the Reading Room highlighting some books on HIV/AIDS. Come in and have a look, or browse the shelves.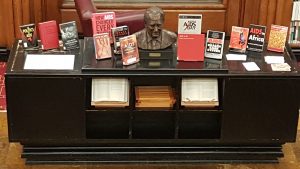 For more information, contact collections@lshtm.ac.uk