Indulgence is often associated with Easter where gourmet chocolate eggs and succulent lamb roast dinners are enjoyed. But what Easter recipes did people have during the Second World War when rations were tight?
The Ministry of Food published recipes to help people effectively use their limited rations, this included a series of seasonal recipes, one of which looks at Easter treats and meals. This leaflet provides recipes for all your favourite Easter meals, including hot cross buns, fruit cakes, beef olives, and…mock lobster salad…perhaps some of these recipes were forgotten about swiftly when rationing ended in 1954.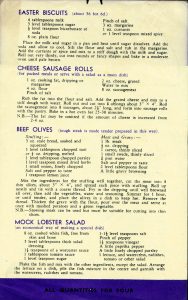 If you chose to be daring this Easter and make one of these recipes, please tag us in a picture on Twitter @LSHTMarchives
These Ministry of Food recipe leaflets are part of the Nutrition collection and can be viewed by making an appointment with the Archives. You can view the archives catalogue online and get more information about archives holding by visiting the School's website.
The Archives will be closed for Easter from Friday 30th April until Wednesday 4th April.