May 20th was International Clinical Trials Day. The very first clinical trial occurred back in 1747 when naval surgeon-mate James Lind determined that scurvy could be successfully reversed by eating citrus fruit. Nowadays the randomized clinical trial is regarded as fundamental to evidence-based medicine.
At LSHTM library, most books about clinical trials are classified at classmark EHB, with some books at other classmarks and several texts available as ebooks.
Here are a few items from the collection.
---
General works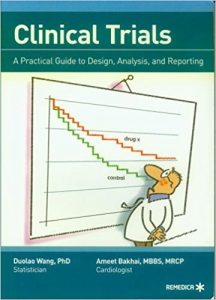 Clinical Trials: A Practical Guide to Design, Analysis, and Reporting by Duolao Wang and Ameet Bakhai (Remedica, 2006)
Library classmark: EHB 2006
Explains the basics of conducting clinical trials in a clear and systematic way, with plenty of illustrative examples from real-life trials. Set out in short chapters within five sections covering fundamentals of trial design, alternative trial designs, basics of statistical analysis, special trial issues in data analysis, and reporting of trials.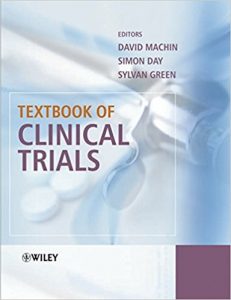 Textbook of Clinical Trials edited by David Machin, Simon Day and Sylvan Green (Wiley, 2004)
Library classmark: EHB 2004
A comprehensive work describing the impact and development of clinical trials and medical statistics. Information is organised in sections specific to cancer, cardiovascular disease, dentistry, dermatology, psychiatry, reproductive health and respiratory disease.
---
Specialised topics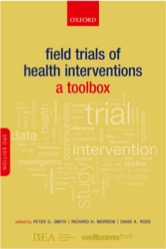 Field Trials of Health Interventions: A Toolbox by Peter G. Smith, Richard H. Morrow, David A. Ross (OUP, 2015)
Library classmark: UB 2015 
Also available online
This is a practical guide to conducting trials in low- and middle-income countries with participants in their normal environments rather than in clinical settings. The main emphasis is on randomized controlled trials. The book aims to help new investigators build on the experience of others rather than repeating their mistakes.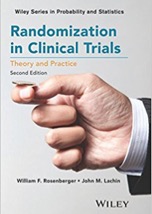 Randomization in Clinical Trials: Theory and Practice (2nd ed.) by William F. Rosenberger and John M. Lachin (Wiley, 2016)
Library classmark: EHB 2016
This reference for researchers, applied statisticians and biostatisticians discusses current philosophies, controversies and new developments with the role of randomization techniques in clinical trials.  Includes problem sets, theoretical exercises and computer simulations.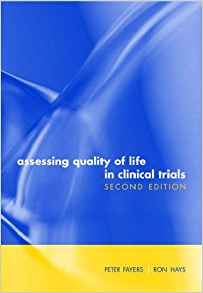 Assessing Quality of Life in Clinical Trials: Methods and Practice (2nd ed.) edited by Peter Fayers and Ron Hays (OUP, 2005)
Library classmark: EHB.AT 2005
Quality of life is an important outcome measure in longitudinal research but presents challenges for the researcher in terms of methodology. This book offers innovative and practical approaches to the design and evaluation of patient-reported outcomes assessments.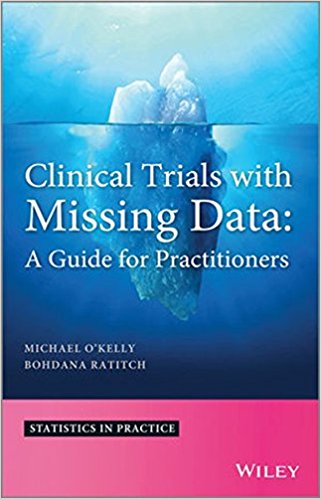 Clinical Trials with Missing Data by Michael O'Kelly and Bohdana Ratitch (Wiley 2014)
Library classmark: EHB 2014
This volume describe how missing data can affect the outcome and credibility of a clinical trial. It discusses the ways in which a clinical team can work to minimise the occurrence of missing data, and how the problem can be effectively addressed when it does occur. Case studies, worked examples and clear guidelines are provided throughout.
---
One author with a book for beginners and a book for experts.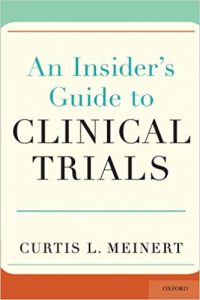 An Insider's Guide to Clinical Trials by Curtis L. Meinert (OUP, 2011).
Library classmark: EHB 2011
Also available online
Aimed at students and people without a background in the field, this is a conversational book explaining how trials are designed and run, who and what gets studied, how trials are reported and how to interpret the results. Includes sections on authorship credit, ethics, research misconduct, research myths, and a "shopping for a trial" section for those interested in participating as a subject.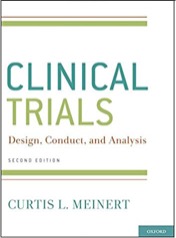 Clinical Trials: Design, Conduct, and Analysis (2nd ed.) by Curtis L. Meinert (OUP 2012)
Library classmark: EHB 2012
An authoritative text full of practical instruction along with tables, checklists, charts and other resources. The very detailed information is grouped into eight broad areas including design principles and practices, execution, data analysis, organisation and management, and publication.
---