In January 2020, the LSHTM Archives Service ran three sessions during the School's Wellbeing fortnight. This is an opportunity for staff to participate in activities that promote their wellbeing at work such as yoga, mindfulness and learning new skills. The idea for these sessions came from a conversation with a former colleague, Emma Aitken, at the Guardian News & Media Archive, during the 2019 History Day, co-hosted by the IHR Wohl Library and Senate House Library. The Guardian Archives holds regular sessions for staff volunteers to work on tasks such as listing, labelling photographs and uploading images into their picture system. Feedback from their staff volunteers say they found volunteering in the Archives relaxing, it gave them a sense of achievement as well as an opportunity to get away from their desks. 
LSHTM Archives had not hosted volunteers for a number of years due to staff shortages and other priorities but the idea of working with staff volunteers was very interesting. Colleagues in our Talent and Education team thought that these sessions could be an interesting addition to the School's wellbeing activities and kindly facilitated the sessions for us.
We scheduled two sessions, which were quickly oversubscribed as we only have space for five volunteers in our search room and that is a bit of a squeeze, so we added a third session.
We developed a number of activities that we hoped would interest the volunteers and would benefit the Archives Service. However we quickly realised that we needed to focus on the benefits to the volunteers if we wanted this to develop into a long term project, if the volunteers were not engaged in the activities, they would not return. We decided to focus on diaries as these have interesting content, are easy to read and did not take too long to explain the context in the hour session. Material included :
food diaries kept by workers on an oil tanker in 1970s
food diaries from workers on the Kenya-Uganda railway in 1947
food and activity diaries kept by teenagers in 1980s
the joint diary of Geoffrey Douglas Hale Carpenter and his wife Amy Frances, recording their experiences including trips to Uganda for his research on sleeping sickness between 1913 and 1930
diary of HS Leeson from an expedition to Southern Rhodesia in 1926 to investigate blackwater fever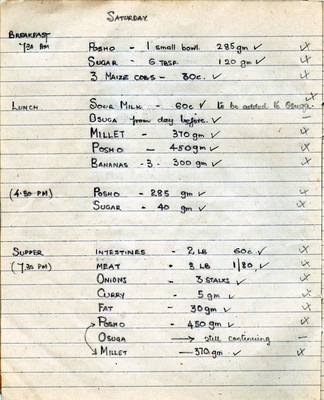 A volunteer from the Executive office was interested in the School minutes from 100 years ago so we were able to quickly retrieve these to meet her interest.
Volunteers were asked to transcribe interesting information that the team could use in future social media posts and dissemination activities, we are keen to use information from our nutrition collection in a future event.
We received positive verbal feedback from the volunteers and had planned to follow up with more focused feedback for evaluation and to plan further sessions, however this project has been put on hold due to the current situation. This project was something new for the Archives Service and we are looking forward to continuing with this project when we return to the office.