The LSHTM Archives hold a number of collections relating to sleeping sickness or African trypanosomiasis, which is an insect-borne parasitic infection of humans and other animals. It is caused by the species Trypanosoma brucei. Humans are infected by two types, Trypanosoma brucei gambiense (TbG) and Trypanosoma brucei rhodesiense (TbR). TbG causes over 98% of reported cases. Both are usually transmitted by the bite of an infected tsetse fly and are most common in rural areas.
The causative agent and vector were identified in 1903 by David Bruce and the subspecies of the protozoa were differentiated in 1910. Bruce had earlier shown that T. brucei was the cause of a similar disease in horses and cattle that was transmitted by the tsetse fly (Glossina morsitans).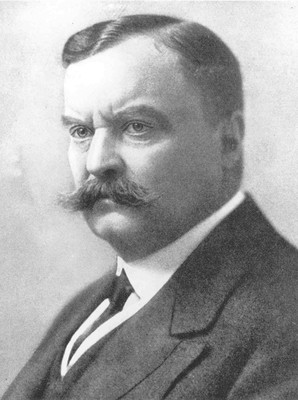 Sleeping Sickness Bureau
The Sleeping Sickness Bureau was founded in June 1908 at the Royal Society, under the direction of Arthur Bagshawe. It was established as a central bureau to collate and offer information on current research and control measures in sleeping sickness. It soon became apparent that sleeping sickness was not the only disease in need of attention; in 1911 the Kala azar Bulletin was published and in 1912 the Bureau moved to the Imperial Institute and was renamed the Tropical Diseases Bureau.
From 1914 onwards the Bureau, maintaining a comprehensive international sphere of interests, emphasised a growing awareness of sanitation as a necessary factor in control of disease in tropical latitudes by publishing also a Bulletin of Hygiene.
In 1920, the Bureau moved to share the new premises of the London School of Tropical Medicine in Endsleigh Gardens and in 1925 changed its name to the Bureau of Hygiene and Tropical Diseases. It moved in 1929 to the new School building in Keppel and was housed in the London School until 1993 when it became part of Commonwealth Agricultural Bureaux International (CABI).
In the Archives, we hold two volumes of press cuttings relating to sleeping sickness between 1908 and 1912.
Carpenter Diary
The Carpenter Diary is a handwritten journal detailing the experiences of a British scientist and his wife researching sleeping sickness in Uganda in the 1920s. The diary provides a rich account of the daily lives of Geoff and Amy Carpenter as they navigated life in African environs, as well as the relative luxury of the colonial lifestyle. As well as diary entries documenting their day to day activities, there are photos, pressed flowers, press cuttings, concert programmes and their wedding invitation.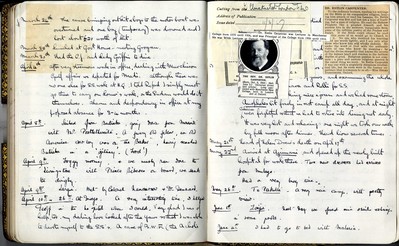 Within the LSHTM archives we have begun to re-examine the way we work, the stories we tell and the role we can play in promoting different versions of history. We have used the Carpenter diary as an example of how we can do this, further details in this blog: Decolonising the Archive: Carpenter Diary
Map collection
The Archives hold a collection of over 450 maps; 175 relate to the study of sleeping sickness between 1901 and 1973. Most maps show the distribution of tsetse flies and palpalis in particular countries. Also includes maps showing infected areas and where flies have been collected for examination.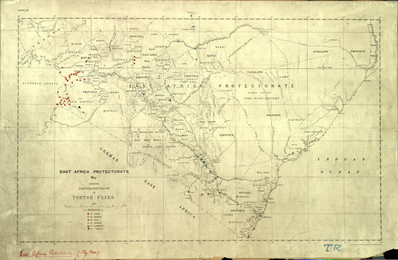 Sir Ronald Ross collection
Sir Ronald Ross was the discoverer of the mosquito transmission of malaria, we hold a collection of over 20,000 of his items which relate to his work on the prevention of malaria but also consist of material on other tropical diseases including sleeping sickness. These include correspondence with other tropical medicine specialists including Sir David Bruce and Arthur Bagshawe, reports, publications and press cuttings. For those researching sleeping sickness, the Ross collection holds a wealth of material.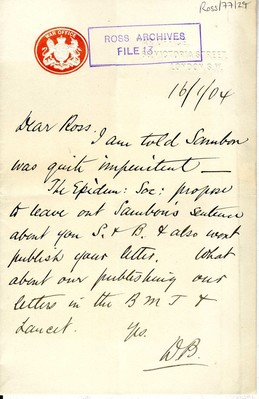 For further information on accessing these collections, please contact archives@lshtm.ac.uk