It's what we've been waiting for – news on UKRI's new open access policy, and their take on Plan S!*
The new policy applies to:
peer-reviewed research articles submitted for publication on or after 1 April 2022.
monographs, book chapters and edited collections published on or after 1 January 2024.
What follows is a quick reminder of what this will mean to researchers at LSHTM, what you need to know, and some handy tools to help you out. I'm going to focus on research articles as those changes are round the corner. Questions about other publication types? Get in touch!
What do you need to know?
Any research articles submitted after 1 April 2022 will need to comply with Plan S rules. Scratching your head wondering what on earth Plan S could be? Never fear – see below for a quick summary!
What is it, in short?
An initiative for full and immediate open access.
This means that all UKRI-funded outputs submitted after 1 April 2022 must be made open access immediately, either by publishing gold open access or green open access with a CC BY licence and no embargo.
How does it work?
There are a few options for publication:
How can I work out which option to use?
The Journal Checker Tool is a good place to start. Select your journal, funder and affiliation and see all your available options. Please note that this is quite a new tool and we do recommend that you double-check your information – contact us if you'd like help with this.
Get your personalised publication instructions with our Publication Pathway Generator! (Coming soon)
Or prefer to see all the pathways in one place? Check out our instruction flowcharts for UKRI-funded, Wellcome Trust-funded or unfunded authors.
Thinking this all looks very familiar?
For the last 5 years (ish) we have been restricting the use of LSHTM funds to fully open access journals only. Why?
Our funding allocation has often been depleted midway through the year even with this measure.
Hybrid journals have always had the option of green open access, so complying with funder requirements and making outputs publicly available.
The open access landscape has been moving in this direction for a while (as demonstrated by the development of Plan S). Hybrid journals have been seen by many as a bit of a smokescreen in the open access world, offering an option for open access without having to rethink their own structures.
UKRI's policy means one big change for LSHTM authors: if you're going green open access (depositing your accepted manuscript in Research Online via Elements) you need a CC BY licence and no embargo. Remember to use the Rights Retention Strategy statement in your submission.
"This research was funded in whole or in part by [Funder] [Grant number]. For the purpose of Open Access, the author has applied a CC BY public copyright licence to any Author Accepted Manuscript (AAM) version arising from this submission."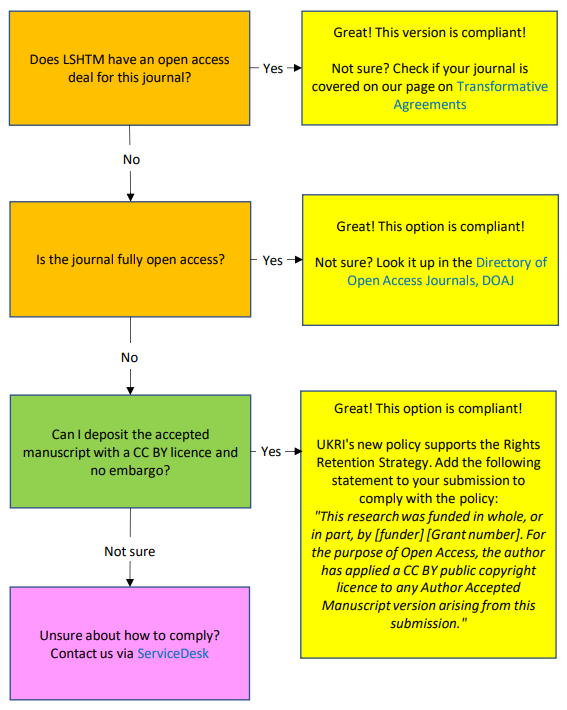 Read more blog posts about Plan S and other open access topics:
And remember, any questions, contact us at any time: Contact us on ServiceDesk.
*Just a quick note to say, yes, we have UKRI's new policy. However, we don't know every detail or implication. We don't know how much money we will be allocated for 2022-23. We don't know if the new policy will mean that there are other lesser-known changes to what we can and cannot fund (at the moment institutions are given some discretion but it is unclear whether this will continue). As soon as we know any more details, we will get them out to you. As it stands, this post reflects the information as it stands. Get in touch with any questions!