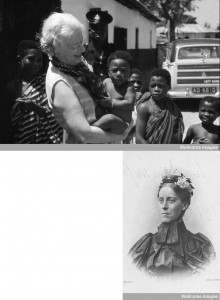 Gems of the Collection celebrates International Women's Day with a display of items from the Library & Archives celebrating women in public health and tropical medicine.
12 March 2014
12.00-2.00pm
South Courtyard (next to the Manson LT)
Library and archives staff will be available to show you some of the unique and rare documents, artefacts and books that we hold relating to  pioneers in public health and tropical medicine including:
Cicely Williams
Mary Kingsley
Mabel Clark
Florence Nightingale
Amy Frances Carpenter
Janet Lane-Claypon
There is no need to make an appointment, just drop by and see us.
All photographs reproduced under a CC-BY licence.
Lady Mary Wortley Montagu. Lithograph by A. Devéria after C. F. Zincke. Wellcome Library no. 6994i
Florence Nightingale. Photograph by the London Stereoscopic & Photographic Company Ltd. Wellcome Library no. 13279i
Elizabeth Garrett Anderson. Photograph. Wellcome Library no. 12277i
Mary Henrietta Kingsley, West African Studies 2nd ed, London: Macmillan, 1901
Dame Cicely Williams. Photograph by Leonard Jan Bruce-Chwatt. Wellcome Images.