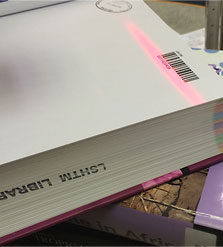 If you've been into the Library this week, you may have heard a beeping noise. No need to worry, we're just doing a stocktake of our books.
This means that the location information on the Library Catalogue may not be correct at the moment. If you are looking for a book and the catalogue says it has been checked-out to a user, have a look for it on the shelf – it may be there. If you find it, just take the book up to the Enquiries Desk as normal and we will check it out to you. Please ask at the Enquiries Desk if you are having problems finding something.
We are doing this to make sure the information in our Library Catalogue matches the items on the shelves. Over the past few years we have moved every item in the Library at least once: we have moved the books downstairs and moved the printed journals upstairs. This was to open up the group study area and make the books accessible to those who can't use the stairs. We also withdrew a lot of books, including old editions of textbooks and duplicate copies of older titles. With all the moving around, we suspect that there are a few errors in our catalogue.
By the start of the 2014/15 academic year, we will have completed the project and the location information (along with everything else) will be complete and up to date.