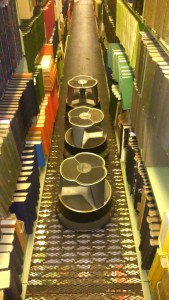 Over the last three months library staff have been making the trip down to Egham and the University of London Depository Library (perhaps more familiarly known to Library users as the 'Offsite Store') to carry out a stock check of our print journals. The Offsite Store houses all the Library's journals published before 2010. It was a huge task with c.900 titles (shelved in 3 sequences) and just over a kilometre of shelving to check.
Now the task is complete, journal catalogue records have been amended to be more helpful to readers. Records include details of how to request items from the Offsite Store, and any issues missing from our collection are listed in the holdings information. A new location has also been added to journal records – 'Journals Store'. Previously records only had 'Journals' as a location whether they were kept at Keppel Street or Egham.
More information on requesting journals from our Offsite Store can be found here.