LSHTM Research Online – the School's research repository for outputs – has re-launched its statistics dashboard and the image above includes the number of full-text downloads for items between January and June 2015.
Over this period nearly 220,000 downloads of items took place with the most downloaded item with 1,298 was a PhD thesis by Cathy Zimmerman (2007) "Trafficking in women. The health of women in post-trafficking services in Europe who were trafficked into prostitution or sexually abused as domestic labourers" which is available to download http://researchonline.lshtm.ac.uk/1343272/ Research Online also has over 7000 Open Access articles available for download too.
The relaunched Statistics dashboard means users can now view statistics for top papers/items by School, Faculty, Department, Centre and individual author.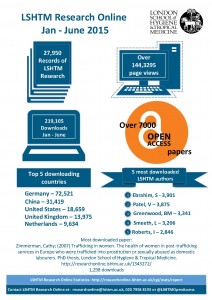 Also available are reports for country of origin downloads and website referrals. Results can be sorted by date period as well as comparison of years. Download statistics and 'hits' are also available below each record on research online alongside any social media or news outlet mentions via Altmetrics. Results can be exported to JSON or CSV file formats.
You can view the statistics dashboard via the front page of Research Online and the following web address http://researchonline.lshtm.ac.uk/cgi/stats/report
If you have any questions about the above statistics or the service generally please contact researchonline@lshtm.ac.uk