We were very sad to hear about the death of Dr Joseph Sonnabend on 24 January 2021 at the age of 88. In 2014, Joseph Sonnabend deposited a large collection of his archives with the LSHTM Archives Service. Sonnabend was not connected to the School but we received an urgent message from his friend Simon Watney that the collection needed a home or was going to be dumped in a skip. We made a quick decision that this collection was too important not to be saved and it also complimented our other collections relating to HIV and AIDS. In 2019, we received an additional set of material.
We have very fond memories of sitting at Joseph's kitchen table in his London flat, drinking tea, stroking his beautiful cat and discussing his records. He could pick up a letter and tell you in great detail the story behind it. He also spoke about his childhood in Africa, it was fascinating to hear about his views on colonialism and his career in early AIDS research and care.
Joseph Sonnabend (b.1933) was a physician, clinical researcher, and community activist who played a significant role in the fight against AIDS from its earliest onset in the United States. His archives chiefly relate to his experience treating and researching AIDS in New York City and includes extensive research notes, laboratory notebooks, research data, scientific articles and medical records of patients he treated in his Greenwich village private practice along with material relating to his involvement in community based research such as papers relating to AIDS Medical Foundation (which he co-founded) and the Community Research Initiative/Community Research Initiative on AIDS, as well as the PWA Health Group.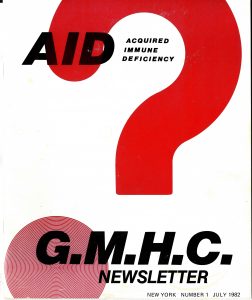 Alongside the material relating to AIDS, the archives also holds research papers from his earlier career as a virologist studying interferon with Alik Isaacs, one of the discoverers of interferon. He spent more than a decade studying interferon largely for the Medical Research Council based in Mill Hill but later in the United States. Papers also include his work on infectious and venereal diseases in the States and include one of his earliest medical posts as a medical investigator onboard a ship returning Muslim pilgrims to Indonesia during an epidemic of meningitis.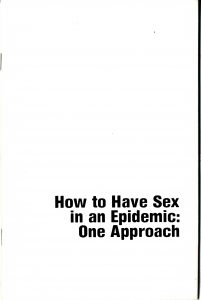 The collection includes material on the publication 'How to Have Safe Sex in an Epidemic: One Approach', published in 1983. This publication was the first to advocate safe sex as a way to prevent the spread of AIDS. Joseph Sonnabend provided the scientific advice for the manual which was produced by two of his patients, Michael Callen and Richard Berkowitz. The book proved controversial with parts of the gay community as it opposed many aspects of sexual freedoms practiced at the time. The guide provides rational advice for safer sex for sexually active individuals, rather than condemning all physical contact or using medical language. There is further information on this publication in this blog post: Who was reading 'How to Have Sex in an Epidemic'? – Library & Archives Service blog (lshtm.ac.uk).
In addition, to the papers deposited at the LSHTM archives and equally significant archive collection is held at the New York Public Library. The online catalogue provides a more comprehensive biography of Joseph's pioneering work fighting AIDS in the United States.
For further information on the collection, please contact archives@lshtm.ac.uk.
Here are links to some obituaries on Joseph Sonnabend:
Joseph Sonnabend: Pioneering AIDS researcher dies at 88 (pinknews.co.uk)
Joseph Sonnabend, Early Force in Fight Against AIDS, Dies at 88 – The New York Times (nytimes.com)