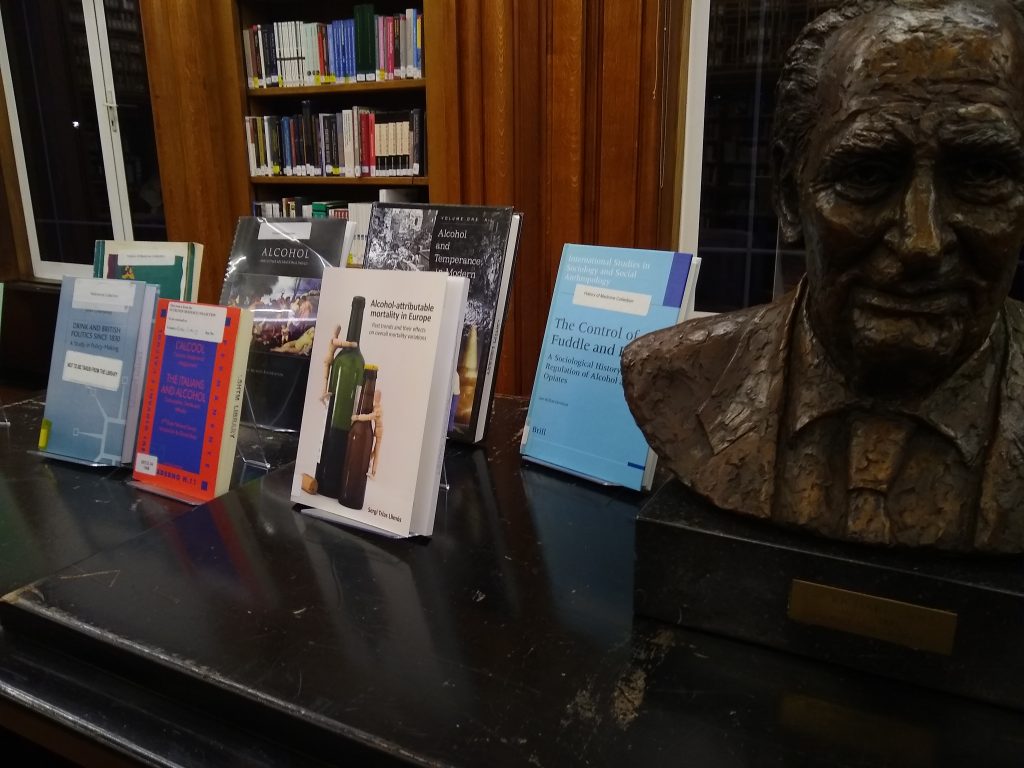 Dry January is a campaign run by Alcohol Change UK during which participants abstain from drinking alcohol for January. Alcohol Change UK is a British charity that works towards reducing harms caused by alcohol consumption. Since it started in 2012, Dry January has grown fast. It has been widely covered by British media outlets and was endorsed by Public Health England in a 2015 campaign.
Alcohol Change UK's website offers a variety of resources, including an app. It also provides a warning that those who are dependent on alcohol should not totally stop consuming it and should contact their GP instead for help with reducing drinking more safely.
Also, the growing popularity of Dry January has attracted the attention of publAc health scholars: one 2017 paper concluded that participants were more likely to successfully refuse alcohol than those who tried to take part "unofficially."*
At LSHTM Library, we have a variety of resources covering alcohol and its relationships with health and society. This ranges from analyses of its effects on the body to histories of its regulation and consumption. The book display seeks to showcase this variety. It includes policy documents, historical works and resources on addiction and recovery. Books and pamphlets on alcohol typically have the shelf mark GFD. You can also find numerous books and journal articles online by searching Discover.
*Full citation: Richard O. de Visser, Emily Robinson, Tom Smith, Gemma Cass, Matthew Walmsley, The growth of 'Dry January': promoting participation and the benefits of participation, European Journal of Public Health, Volume 27, Issue 5, October 2017, Pages 929–931, https://doi.org/10.1093/eurpub/ckx124
Books on display
"An Interdisciplinary Perspective on Alcohol and Other Recreational Drugs: Conference Proceedings, Admiralty Arch, London, 15 July 2003." Oxford: Beckley Foundation, 2003.
Babor, Thomas. Alcohol: No Ordinary Commodity. Research and Public Policy. Second edition. Oxford: Oxford University Press, 2010.
Berridge, Virginia. Demons: Our Changing Attitudes to Alcohol, Tobacco, and Drugs. Oxford: Oxford University Press, 2013.
Berridge, Virginia. Temperance: Its History and Impact on Current and Future Alcohol Policy. York: Joseph Rowntree Foundation, 2005.
Blocker, Jack S., David M. Fahey, and Ian R. Tyrrell. Alcohol and Temperance in Modern History: an International Encyclopedia: Volume 1: A-L. Santa Barbara, CA: ABC-Clio, 2003.
Butler, Shane. Alcohol, Drugs and Health Promotion in Modern Ireland. Dublin: Institute of Public Administration, 2002.
Gerritsen, J.-W. (Jan-Willem). The Control of Fuddle and Flash: a Sociological History of the Regulation of Alcohol and Opiates. Leiden: Brill, 2000.
Gli italiani e l'alcool: consumi, tendenze ed atteggiamenti = The Italians and alcohol: consumption, trends and attitudes. 3rd Doxa National Survey. Italy: Vignola Editore, 1998.
Greenaway, John. Drink and British Politics Since 1930: a Study in Policy-Making. Basingstoke: Palgrave Macmillan, 2003.
Kemm, J. R. Alcohol and the Public Health: a Study by a Working Party of the Faculty of Public Health Medicine of the Royal Colleges of Physicians on the Prevention of Harm Related to the Use of Alcohol and Other Drugs. Macmillan Education, 1991.
Kyvig, David E. Law, Alcohol, and Order: Perspectives on National Prohibition. Westport, Conn: Greenwood Press, 1985.
Lewis, Milton James. A Rum State: Alcohol and State Policy in Australia 1788-1988. Canberra: Australian Government Publishing Service, 1992.
Nicholls, James. The Politics of Alcohol: a History of the Drink Question in England. Manchester, UK: Manchester University Press, 2012.
Regulating Lifestyle Risks: the EU, Alcohol, Tobacco and Unhealthy Diets. Cambridge, United Kingdom: Cambridge University Press, 2015.
Robertson, Ian, and Nick. Heather. Let's Drink to Your Health! A Self-Help Guide to Sensible Drinking. British Psychological Society, 1996.
Smart, Reginald G, Alan C Ogborne, and Alan C (Alan Charles) Ogborne. Northern Spirits: Drinking in Canada, Then and Now. Toronto: Addiction Research Foundation, 1986.
Trias Llimós, Sergi, F. Janssen, and L. J. G. van Wissen. "Alcohol-Attributable Mortality in Europe : Past Trends and Their Effects on Overall Mortality Variations". University of Groningen, 2019.