We're very excited to be launching a supplement on the 'science and practice of people-centred health systems', the theme of the Third Global Symposium on Health Systems Research, in Cape Town next week.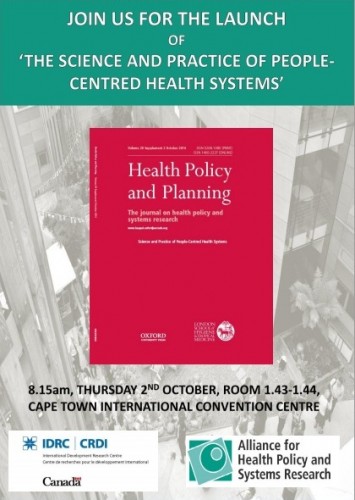 This collection of studies presents the latest in the field of health policy and systems research, bringing together research from Ethiopia, Uganda, Ghana, Nigeria, South Africa, India, Argentina and Brazil.
The term 'people-centred' is relatively new to the health systems debate and focuses on all factors affecting health, not only biomedical solutions. Each of the eleven studies in the supplement investigates different aspects of people-centred health systems, including the experiences of patients, health workers and the community, perceptions of policy-making and the social determinants of health.
The supplement has been edited by Kabir Sheikh (Public Health Foundation of India), Michael Kent Ranson (World Bank) and Lucy Gilson (University of Cape Town and London School of Hygiene & Tropical Medicine), with funding from the Alliance for Health Policy and Systems Research and the International Development Research Centre, Canada.
We hope that it will inform debates in the Symposium and beyond the event.
So, join us for breakfast and a panel discussion featuring the authors, editors and sponsors.