By Natasha Salaria (London School of Hygiene & Tropical Medicine)
Health Policy and Planning has recently published an open access supplement on The Emergence and Effectiveness of Global Health Networks, funded by a grant from the Bill and Melinda Gates Foundation and guest edited by Jeremy Shiffman and Sara Bennett. This supplement addresses key findings from a research project which examined the emergence and effectiveness of global health networks addressing tobacco use, alcohol harm, maternal mortality, neonatal mortality, tuberculosis and pneumonia. The below three questions are investigated in further detail:
How do global health networks emerge and evolve?
What role, if any, do they play in securing attention, raising resources and influencing policy for the conditions that concern them?
What factors shape their ability to do so?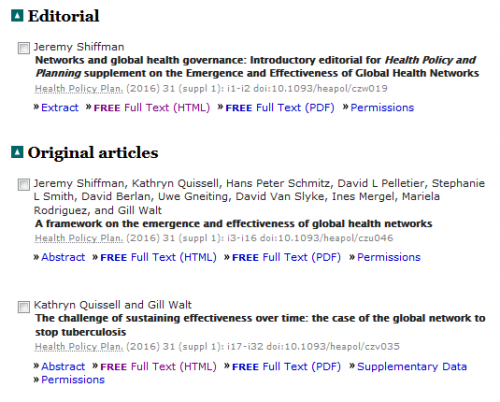 The above nine articles investigate these important questions throughout the supplement and provide potential directions for future research on global health networks, both supporting and questioning their legitimacy.
Read the editorial and full supplement here.
—————————————————–
For a full list of our previously published supplements, follow this link: http://heapol.oxfordjournals.org/content/supplemental
Follow Health Policy and Planning on Twitter: @HPP_LSHTM