By Saachi Dalal (Khushi Baby), Ruchit Nagar (Khushi Baby and Harvard Medical School), Dr. Dan Schwarz (Ariadne Labs and Harvard Medical School), Rohit K. Singh, IAS (Additional Chief Secretary, Medical, Health and Family Welfare, Rajasthan)
In this blog series we are giving a voice to practitioners, implementers and policy-makers involved in national COVID-19 responses in low- and middle-income countries.  These posts seek to facilitate timely cross- learning by sharing opinions, insights and lessons on the challenges and actions taken by those on the COVID-19 front line.
Rajasthan, India's largest state, has been grappling with its most severe COVID-19 outbreak in Ramganj: a low-income, densely populated locality in Jaipur's walled-city marketplace. We will share insights from the Additional Chief Secretary, Health's council on how to transition from disease containment to saving lives in socio-demographically challenging urban outbreaks, especially in low and middle income countries.
Ramganj's COVID-19 epidemic to date
In Figure 1 and Table 1, we summarize the epidemiology and administrative interventions chronologically from March 26th to May 16th, 2020.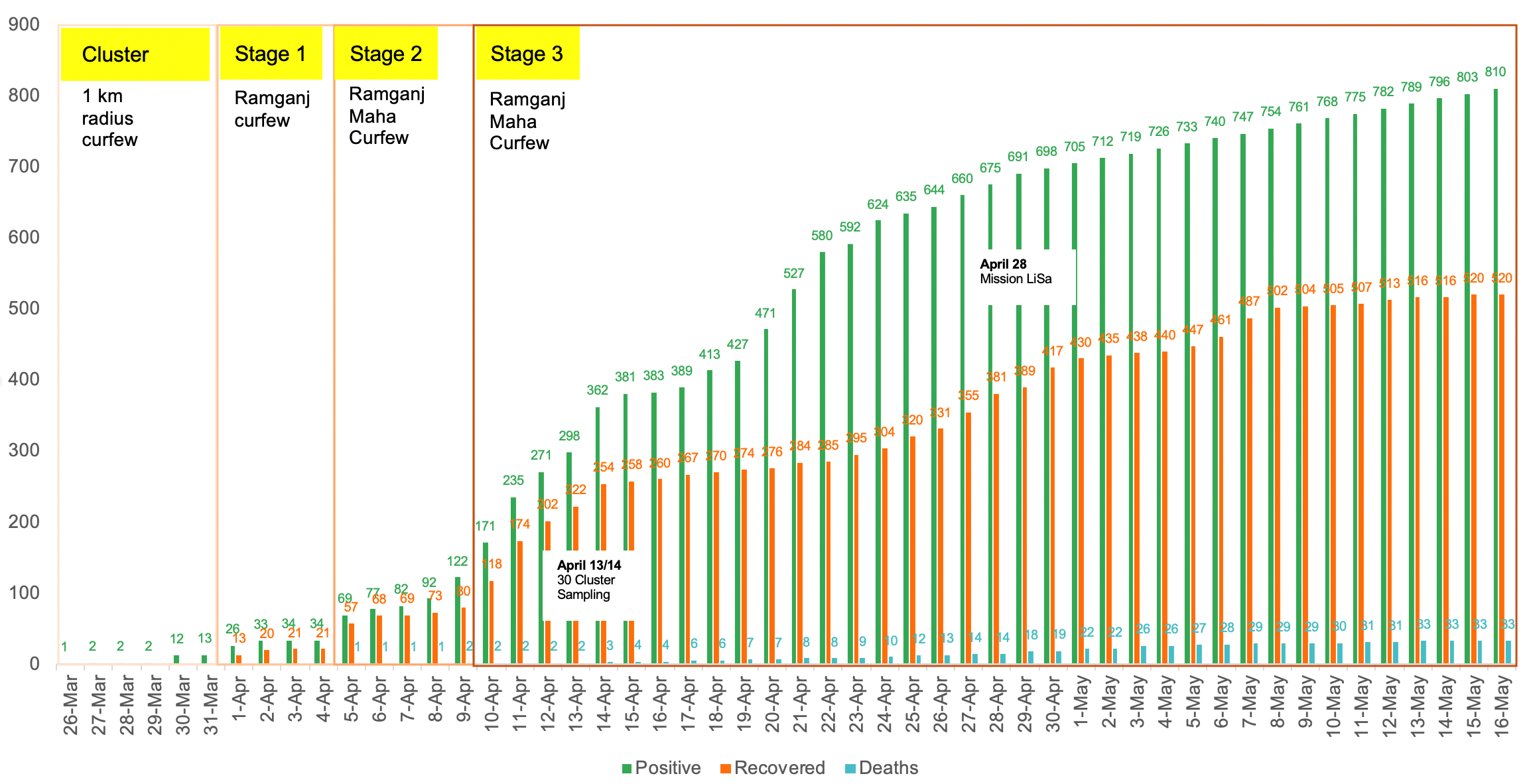 Figure 1: Cumulative Cases, Recovered Cases, Death Count in Ramganj (March 26 – May 16, 2020). The data has been categorized by stage of outbreak: Cluster (March 26-March 31), Stage 1 (April 1- April 4) , Stage 2 (April 5-9), Stage 3 (April 10 – present). Total population across 25 wards of Ramganj: 260000 
Overcoming Community Resistance
The outbreak in Ramganj can be directly linked to a 45-year-old man who returned home from Oman on March 12, carrying the virus. The immediate administrative decision was to follow Indian Council for Medical Research (ICMR) guidelines for cluster containment, seal arterial roads to the containment zone, and extend perimeter control to the entire walled-city of Jaipur. But throughout cluster and stage 1 phases, front line staff faced significant resistance from the community, thereby impeding home based screening, testing and facility quarantine. Field reports suggested that despite increased police presence on the ground, residents were still working outside their homes and participating in social gatherings. This lack of adherence to local regulations may be partially attributed to to multiple socio-demographic factors and low literacy. In a community where residents depend on daily wages for their livelihood and up to twenty five people occupy a single household, social distancing and home quarantine should not be expected.
Foreseeing the outbreak spiraling further, the Department of Medical, Health and Family Welfare (DMHFW) planned to apply learnings from Bhilwara's successful "ruthless containment" and testing strategy. These stringent measures required trust with the already resistant community. The DMHFW contacted local religious and political leaders to advocate for its efforts. Drones with loud speakers and pamphlets were used to spread awareness about COVID-19, safe health behaviors, and RT-PCR testing.
On April 6th, as Ramganj transitioned to a stage 2 outbreak, a maha-curfew order (strict curfew) was announced. Passes previously available for essential service providers, and health and media personnel to enter the Walled City were no longer valid. Residents of Ramganj were instructed to stay home and essential supplies were delivered to their doorsteps. Finally, to enforce social distancing in the locality, police officers began conducting flag marches throughout the city and drone-based surveillance measures in the inner lanes.
Fortunately, early trust building and awareness measures were successful. Cooperation from residents enabled thousands of screenings, sample collections, and facility quarantine of residents. As of April 29, over 8000 RT-PCR tests had been conducted in Ramganj. Although a randomized 30-cluster sampling estimated 4220 positive cases in Ramganj, only 702 cases were identified. Majority of the cases were male (61.2%), aged 20-30 years. Since the start of the outbreak, reports from SMS hospital, where most cases were treated, suggested less than 1% of admitted patients required any form of oxygen therapy and most positive cases (up to 80%) were asymptomatic or mildly symptomatic. Further, the elderly age groups (≥60 years) obtained the highest case fatality rate of 15.3% (compared to 0.8% for those under 60 years).
The epidemiology of the disease in Ramganj catalyzed the DMHFW to initiate Mission LiSa (life-saving), a state-wide paradigm shift from containment towards life-saving.
Protecting the Vulnerable 
In a climate where citizens fear approaching health facilities and public and private pillars of the health system remain fairly divided, it is our duty to protect vulnerable populations – from both COVID-19 and non-COVID-19 health concerns. Under Mission LiSa, the state is focusing on home-based screening and RT-PCR testing of only the elderly (≥60 years), comorbid, pregnant women and children under 10 in large outbreak areas. Home based screening now includes portable pulse oximeters to ensure early identification and treatment of respiratory distress. Of the tested vulnerable residents, symptomatic positive cases are hospitalized, while negative and suspected cases have the option to be quarantined in hotels and monitored daily. The latter decision was made as a precautionary measure, since the DMHFW is no longer testing or isolating asymptomatic, potentially contagious, non-vulnerable residents from large outbreak areas.
To streamline data collection on COVID-19 symptoms, preexisting medical conditions and medication supply, active surveillance is being tracked digitally through a new offline mobile application. Vulnerable populations are being referred for checkups at nearby COVID-care centers or at one of 500 strategically deployed mobile medical vans in hotspot areas. GIS techniques are being used to identify high risk areas where there is strong overlap between clusters of COVID19 cases, high resistance areas from WHO Pulse Polio field research, and pockets with high numbers of elderly residents. This mapping will assist active surveillance strategies under Mission LiSa.
Beyond targeted testing and active surveillance, proactive, outbound IVRS calls in the local dialect are being deployed to follow-up with mothers across the state. With frontline health workers occupied in active surveillance activities, this remote outreach allows for self-report of neonatal danger signs and high risk pregnancy symptoms, which can lead to timely referral care.
As of May 16, the cumulative case count in Ramganj was 810 and the curve appears to be flattening. Keep in mind that modified testing strategies have likely missed many unreported cases. If Mission LiSa has been successful so far, the unidentified cases should be the asymptomatic, healthier members of the locality as opposed to the vulnerable.
Lessons for addressing similar outbreaks
The administrative learnings from managing the outbreak in Ramganj have been codified as a four-tier strategy (Table 2). These guidelines have been circulated among district collectors across the state with the acknowledgement that each outbreak is unique and local experience must be used to make discretionary decisions. In LMICs, where resources such as RT-PCR tests, active surveillance staff, and hospital beds may be limited, our strategy can guide policy makers to effectively allocate resources in each stage of a large outbreak.
Table 2: Four-tier strategy recommendation for Rajasthan District Collectors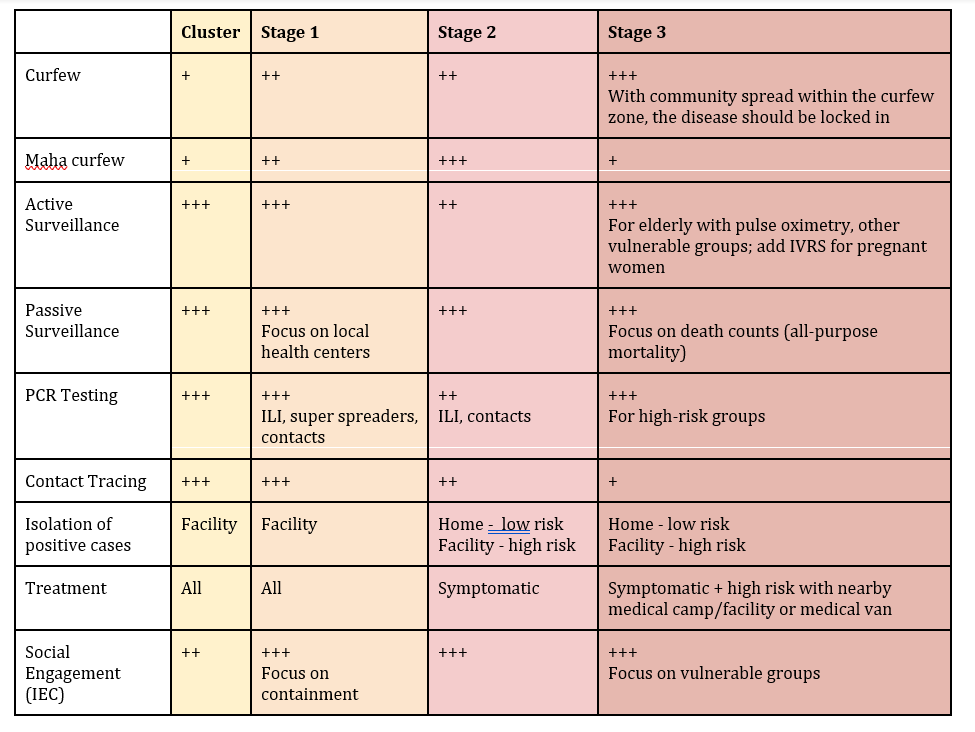 The +  sign indicates magnitude of response, with more + signs indicating higher magnitude.
Definitions → SPO2: Oxygen Saturation, ILI: Influenza-like Illness, super spreaders: health workers, policemen, essential service delivery providers.
Cluster (fewer than 15 cases, epidemiologically linked)
Stage 1 (15-50 cases, with 1-5 cases epidemiologically unlinked)
Stage 2 (50-150 cases with 5-10 cases epidemiologically unlinked)
Stage 3 (150+ cases or 10+ cases epidemiologically unlinked)
*inputs from WHO, UNICEF, Khushi Baby, DMHFW Rajasthan, Expert Advisory Group
For now, the lockdown is being sequentially lifted across the state. In Ramganj, the curfew area has been scaled back from the entire walled-city to focused containment zones within the locality. On a positive note, over 500 residents of Ramganj have recovered from COVID-19.
Looking ahead, District administrators have been advised to watch for a 28 day case-free period as a signal of safety for outbreak areas. Unfortunately, this golden period might take months to come. Till then, governments must ensure essential services and non-COVID-19 related health care are easily accessible, especially to vulnerable populations. Rajasthan is relying on development partners and local NGO's to provide innovative, technology solutions to help adapt our health system to a new "normal". Cooperation from citizens will be equally important for social distancing, home-based screening and testing of vulnerable groups. To maintain trust with the diverse communities in India, we recommend that local leaders be appointed as liaisons and administrative interventions respect religious and cultural practices.
---
Image Credit: Indian Express
Image Description: Police force enforce perimeter control at Ajmeri gate, entrance to Jaipur's Walled City.