By Natasha Salaria (London School of Hygiene & Tropical Medicine)
The 2020 impact factors are now out as of this month and what a year it has been. We are pleased to announce we have seen an increase in our impact factor which has gone up to 3.344 with our 5-year impact factor coming in at 3.902. This keeps us in Quartile 1 of the Health Policy and Services category (19th out of 88 journals).
As we are all aware, the usage of impact factors is widely contested as a means of assessing journal impact, and we at the London School of Hygiene & Tropical Medicine have signed the Declaration on Research Assessment (DORA) which recognises the need to improve how research is assessed. However it is undeniably still widely recognised by authors, publishers, libraries and academic departments as an indicator of citation rates to journal articles.
After delving into some of the citation data, we would like to share our top 10 most highly cited articles that contributed to the 2020 impact factor in Health Policy and Planning:
| | | | |
| --- | --- | --- | --- |
| Contributions by country/region | Count | Contributions by organizations | Count |
| UNIVERSITY OF LONDON | 50 | USA | 104 |
| LONDON SCHOOL OF HYGIENE TROPICAL MEDICINE | 44 | ENGLAND | 73 |
| HARVARD UNIVERSITY | 27 | SOUTH AFRICA | 26 |
| JOHNS HOPKINS UNIVERSITY | 15 | CANADA | 23 |
| UNIVERSITY OF CALIFORNIA | 13 | AUSTRALIA | 22 |
| UNIVERSITY OF CAPE TOWN | 11 | SWITZERLAND | 18 |
| WORLD HEALTH ORGANIZATION | 11 | KENYA | 14 |
| MAKERERE UNIVERSITY | 9 | INDIA | 13 |
| RUPRECHT KARLS UNIVERSITY HEIDELBERG | 8 | TANZANIA | 11 |
| UNIVERSITY OF SYDNEY | 8 | GERMANY | 10 |
*These data summarize the top 10 countries/institutions for papers published in 2018 and 2019 i.e. the impact factor window. The 'record count' values mean that at least one author listed on any paper is affiliated with the named institution or is from the listed country. It is meant to be descriptive rather than comparative.
Our top 10 contributions by organizations include high performing higher education institutions such as Johns Hopkins, Harvard University, University of Cape Town, University of Makerere and the World Health Organization.
The journal has wide reach and publishes papers from authors in over 75 countries, many from low- and middle-income countries who are able to utilise our reduced rate or free access countries list.
In 2020, our blog audience included readers from Kenya, India, UK, USA, South Africa, Nigeria, Myanmar, Ghana, Australia and Brazil.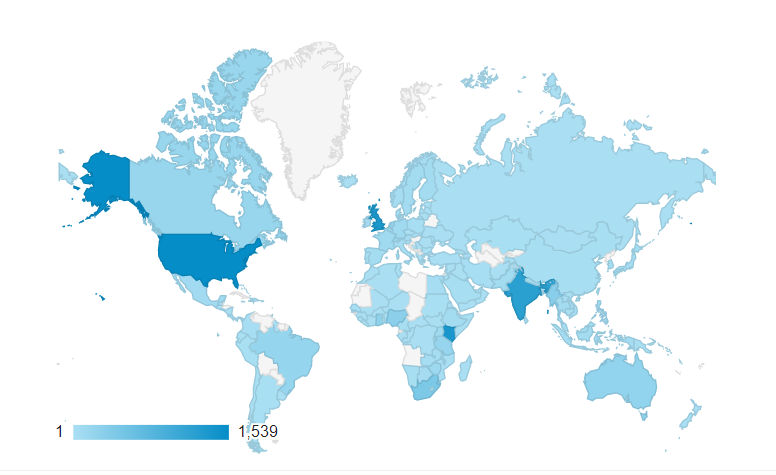 Altmetric
Altmetric is an alternative metric to the impact factor, used to demonstrate engagement with journals on an individual article level. Altmetric collects data on universal popularity and uptake, including within policy documents to show how research has influenced health policy as well as media outlets and social media platform discussions.
There have been 61 policy documents including out content by 12 unique policy sources in 8 countries including policy documents in the World Bank, the National Institute for Health and Care Excellence, Food and Agriculture Organization of the United Nations and the World Health Organization.
Here are the Top 10 articles from 2020 with the highest Altmetric score published in Health Policy and Planning:
Don't forget to check out our latest outputs including: